Blue Cat's FreqAnalyst Multi is a unique tool that enables the visualization of the spectrum of multiple instances on a single screen in order to compare them or detect overlaps or conflicts. This new version comes with a completely redesigned user interface with improved workflow and readability as well as many new features and enhancements: a new presets manager, new MIDI and automation mapping capabilities, many new presets, Windows AAX support, multiple display sizes, and much more (details below).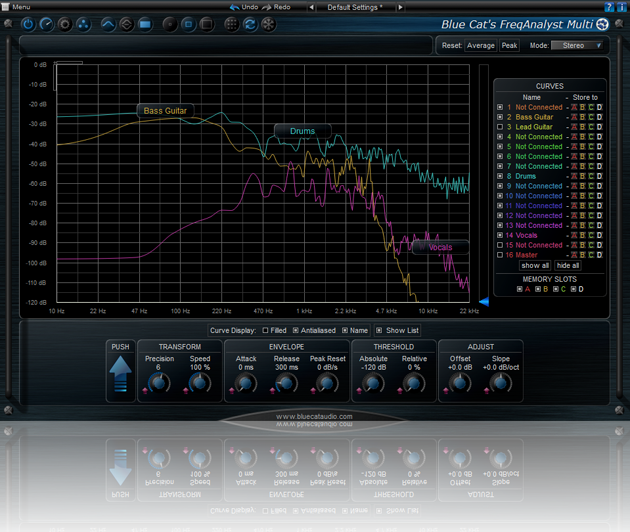 The plug-in is available alone or as part of Blue Cat's Analysis Pack, our flagship audio analysis solution. New customers can purchase both the analysis plug-in and its associated bundle with 15% off until the end of the month. Customers who recently purchased the plug-in will receive the upgrade for free, and others can upgrade to the new version for a small fee. Demo versions can be downloaded on www.bluecataudio.com, in VST, RTAS, AAX, Audio Unit and DirectX formats (32 and 64-bit).
New Features in Blue Cat's FreqAnalyst Multi 2.0:
– Brand new fully customizable user interface:
— New look and feel.
— Show/hide what you need.
— Curves names can now be displayed on the graph (overlay).
— Single or multiple displays modes.
— Multiple display sizes
— Improved readability.
— Animated transitions.
– All instances can now be forced to synchronize.
– New integrated presets manager:
— Load/save presets from the plug-in's user interface.
— Organize presets with folders.
— Customize the default preset.
— Exchange presets easily.
– Automation range and response curve can now be customized for each parameter.
– Automation and MIDI settings (channel, MIDI learn etc.) are now accessible from the main user interface.
– AAX plug-in format is now also supported on Windows (Pro Tools 10.2 required).
Improvements:
– Improved note display (now uses a +/-50 value for cents).
– Improved Graph rulers display when zoomed.
– Routing matrix automatically displayed when opening the plug-in for the first time for easier setup.
– New presets to make setup easier.
– Plug-in name has been shortened for a clearer display in mixer view for most host applications.
– Changed the default VST install path on Windows.
– License is now shared between plug-ins types (register only once for all formats).
– Added new presets.
– Improved value display in fine edit window.
Optimizations and Performance Improvements:
– Reduced VST plug-in loading time.
– Improved parameters precision (now stored as 64-bit).
– More compact presets format (uses less space and loads faster).
– Smaller binaries on Mac (dropped PowerPC support).
Blue Cat Audio