Loopmasters; the world leaders in professional royalty free sound samples have teamed up with Rocudo to present music makers, Djs and Producers worldwide with a fantastic new FREE app for the iPad, DJ Studio. DJ Studio for iPad brings DJ-ing to a different level, for beginners and professionals alike.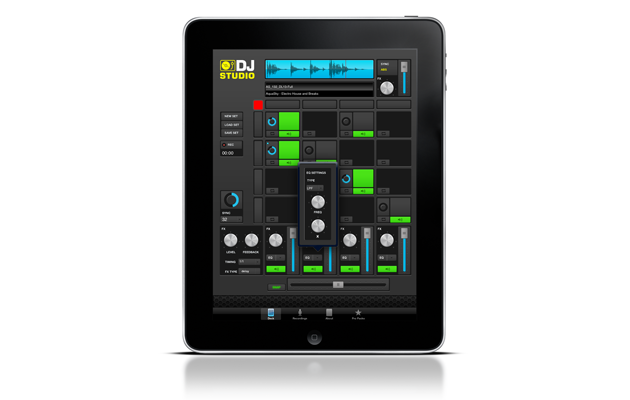 Loopmasters have built a powerful DJ App and packed it full of great Loops & Samples from top Artists & DJs. Then they folded in some advanced features and premium content options which you can unlock at your own pace.
The launch version includes a huge collection of Dance samples which can be combined and controlled in 1000s of unique ways enabling anyone to enjoy mixing great sounds, and to control the dance floor!
Features:
• Browse builit-in library of Loop & Samples and drop onto your 4×4 Deck
• Tap Pads to play – auto-sync means you're always on the Beat
• Manipulate Level, Mute and FX Send for each Pad
• Mixer provides Level/Mute, EQ and FX Send on 4 independent channels
• Delay FX Unit provided will autoset its parameters to match Tempo
• Save your Sets and Record your Live Performances
• Absolutely no experience required
• It's FREE!
In-App Purchase Options:
Once you've mastered DJ Studio, you might want to step up your DJ game, so they've made the following In-App purchases available:
Pro Features Upgrade: Unlocks limitations on some functions and adds pro-DJ features
• Full (4×4) Pad Matrix: The Free App gives you 2 channels of 4 Pads (2×4) – the Pro Features Upgrade unlocks the full 4×4 Deck
• Save your Sets: The Pro Features Upgrade allows you to save unlimitied Sets, so you can quickly build up ready-to-go material
• Unlimited Recording: Recordings in the Free App are limited to 3 minutes – the Pro Features Upgrade removes the limitation
• Multiple EQ Types: The Free App comes with Low-Pass Filter EQs – the Pro Features Upgrade enables multiple EQ types (Low-pass, High-pass, Parametric)
Pro Content Upgrade: Adds Content to your library, in Loop and long-form Mixtools format
• Beef up your Building Blocks: Get tons more options in Bass, Drum/Music Loops, Percussion, Vocals and FX categories
• Progressive Mixtools Stems: The Mixtools format breaks down tracks by top Artists in progressive stems covering drum grooves, percussion tops, synths, effect builds, breakdowns and drops – saving you time and effort so you can focus on being creative
DJ Studio is now available for download at iTunes.