South Korean duo Ether blurs the border between the visual and the aural. Snippets from obscure films are mixed with post-punk inspired music, forming a totality greater than the sum of its parts. Rule-breaking, borderless and unique – which is exactly how good art should be.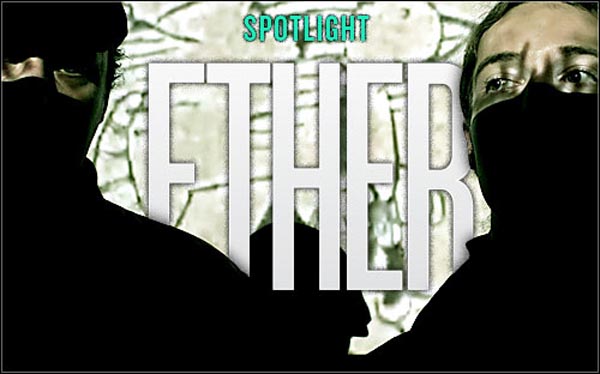 How do you work with the visuals? What kind of connection between moving images and music are you looking for?
In our early recording sessions, we would put random playlists of obscure and art house movies on silent to keep our eyes entertained while we played. We watched these with the music we were making and some of it seemed to fit really well. It didn't take long before we had the idea of mixing these movies with our music in a more concrete way. So, I went ahead and mixed down our first track »La Champignonne« with the movie that inspired it. It turned out really well and we thought, hey, we're on to something.
Live, we want to create as much of an immersive experience as we can. We use VJ technology to live cut between scenes and link the images up with the mood of the music we're playing. In the future we want to take more and more from our surroundings and the media, sampling anything and everything to produce as complete an interpretation of our environment as we are able.
Is all material improvised? How do the sessions begin?
Our sessions are always recorded live and improvised. We aim to play with as little pre-rehearsed material as possible. The only parts of our music that are prepared in advance are a bunch of patterns and kits that I make on the Machinedrum. These are our starting points. When we play, I mix them around by switching patterns and using the sampling engine of the MD to blend my beats and kits together. Through live tweaking, my carefully arranged sounds often take brand new forms and go in unexpected directions.
After an improvisation session, how do you decide which material you will keep?
When we record privately we have a chance to be more experimental in order to find fresh new sounds and ideas. When we listen back, we decide what worked and what didn't. We are continuously looking to perfect our skills so we can bring a greater sense of cohesion to our live set which is also largely improvisational.
When I have found a part of a session I particularly like, I begin mixing it down, while trying out some different visual ideas along to it. I'm looking for happy accidents, where the sound and the images link up and the changes in the track match the changes in the movie. Then it is a case of making sure they are both the same length, which I manage through subtle cutting of the movie scenes or the track.
Do you have special areas you are responsible for when making music, or do you work on a more fleeting basis?
We are dedicated to transcending conventions of performance, experimenting with our creative direction and creating original music. I am in charge of the beats and sequences as well as guitar, and Mac is in charge of the bass and noise. We would also like to add other instruments to our repertoire in the future.
Our complete video archive is on our YouTube page. Subscribe to be up to date with all our new videos. We also post all our videos and info about gigs etc on our Facebook fan page And for a limited time, you can listen to and download all our tracks for free on Soundcloud.