Recently under heavy 'teasement' with some teaser videos, it's now time to unveil what Hercules was teasing about, … The DJConsole RMX2! According to Hercules the DJ Console RMX2 is the ideal instrument to express your creativity, to work on your mixes, to turn your ideas into music, and to hone your performance and conquer your audience.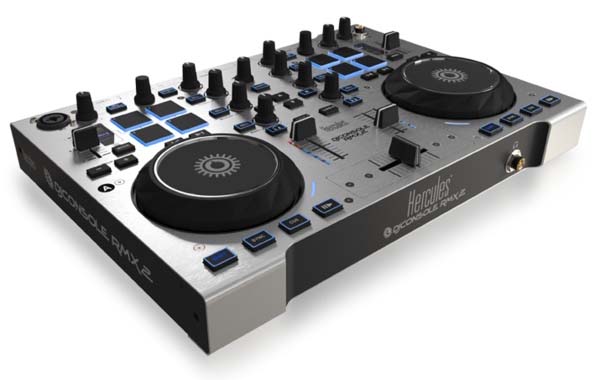 Hercules will invite DJing communities to live the RMX 2 experience from a unique perspective during the World Tour event, which will run from the end of summer until the end of the year – practicing mixing, learning new techniques, enhancing their skills, teaming up with emerging DJing artists and sharing their passion, participating in DJing contests and much more. So, who's in?
Generation 2
Over the past 4 years, the DJ Console RMX by Hercules – the leader in mobile DJing controllers for PC and Mac – has been adopted by a number of DJs who have embraced computer DJing, and have trained and evolved using this technology. The DJ Console RMX soon became the benchmark device in its category – a DJing controller for PC and Mac available for less than 350 € – thanks to its user-friendly controls, its audio interface featuring inputs and outputs and its metal case. Today, its creators' passion burns brighter than ever; they are pleased to introduce the second generation of this device: the Hercules DJConsole RMX 2.
High resolution DJ controller
High-resolution audio: 96KHz/24-bit
High-resolution faders: 14-bit MIDI mode
Outstanding audio quality
Sampling up to 96KHz/24-bit
XLR balanced main output (1-2)
XLR balanced microphone input
2-deck DJ controller
2 jog-wheels with pressure detection
8 velocity pads
High resolution controls: 14-bit MIDI mode on all faders
Metal frame
Brushed aluminium top panel
Steel basis
Secure
Rugged casing supporting any kind of mix
Hook protecting the USB connector from unexpected removal
Changeable cross-fader compatible (Mini-Innofader® compatible)
Power adapter protecting the audio from USB power fluctuations
Designed for mobile DeeJays
Transport bag included
All-in-one design: controller + audio
Rugged metal enclosure for transport conditions
Light and compact enough to be carried on the shoulder
Included DJ software: Virtual DJ and DjucedTM40°
The Hercules DJConsole RMX 2 will be available from mid-August 2012, at the suggested retail price of 299,99 Euro / £279.99 incl. VAT.