Steinberg today released Nuendo Live, a dedicated live recording software solution for recording engineers, production houses and rental and staging companies. Based on the award-winning Nuendo audio workstation, Nuendo Live's sole purpose is to deliver the very best in multitrack recording to live professionals.
Nuendo Live features an efficient user interface that observes the single-window concept without unnecessary options to avoid clutter and streamline processes. Dedicated live tools include its record panel displaying all the essential recording information, such as timecode, recording length and remaining disk space, a
60-second pre-record buffer and auto-save ensures that every second of each recording is always stored away in the background. Tracks are created on startup and armed simultaneously while easy marker track management helps to create markers on the fly.
Premium sound quality is guaranteed by the widely acclaimed Steinberg Audio Engine, bringing out the finest nuances of any live performance owing to its 32-bit floating-point resolution.
Integrating seamlessly with Yamaha CL consoles, Nuendo Live displays all the CL console's channels with intricacies that include color schemes and many more. In addition, users can remote control Nuendo Live by using the console's touchscreen.
Nuendo Live provides an unlimited number of recording channels, EBU standard RIFF 64 Broadcast Wave File and multitrack output option for virtual soundchecks. Rounding out the comprehensive feature set are basic editing functionality and 64-bit support for Windows 7 and Mac OS X 10.7 systems.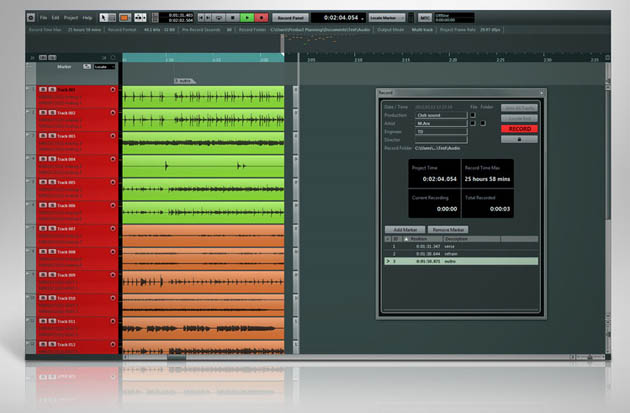 Availability and pricing
Nuendo Live is available as download through the Steinberg Online Shop and also as a boxed version at authorized Yamaha resellers. The suggested retail price for the download version without the USB-eLicenser is EUR 329, including German VAT. The suggested retail price for the boxed version is EUR 349, including German VAT.
Features at a glance
• Advanced live recording system featuring a straightforward single-window operation, a record panel, a pre-record buffer and more
• Seamless integration with Yamaha CL series consoles for controlling essential Nuendo Live functions straight from the live console
• State-of-the-art recording quality based on Steinberg's award-winning audio engine with up to 192 kHz lets your production stand apart from the competition
• Nuendo Live Record Panel shows all essential session information at once — creating confidence in demanding live situations
• Advanced Session Management with auto-naming of recorded files, multiple folder creation, easy-to-use marker track, auto-save and notepad
• Zero setup time thanks to automatic track creation function that make Nuendo Live record-ready in less than a minute
• 24+ hours recording time thanks to EBU-compliant RIFF 64 broadcast wave format in standard recording mode
• Virtual Sound Check allows for easy use of previous recordings for sound check, including marker recall and 1:1 output
• Deliver with confidence due to standardized rendering formats and Nuendo compatibility for post-production
• Editing on the road: Nuendo Live includes essential editing functions, making it possible to create a rough edit of the recordings right after the show