FXpansion is proud to present a suite of four dynamics plugins. DCAM Dynamics offers a variety of different flavours of high-quality circuit-modelled dynamics processing. The included plugins are perfect for everything from taming tricky transients to heavy, creative sculpting effects and everything in between. Classic console bus compression and channel limiting amp processors are provided alongside a transient shaper and frequency-selective compressor making DCAM Dynamics a great all-purpose dynamics toolbox.
DCAM Dynamics Buscomp: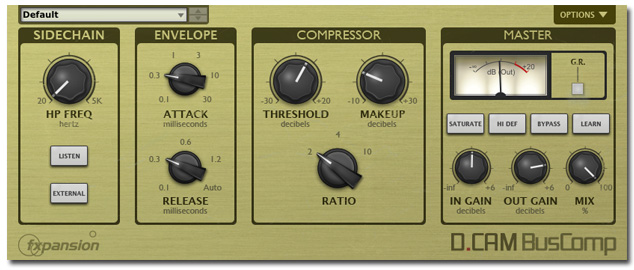 With lovingly modelled bus compression and limiting amplifier circuits, DCAM Dynamics' BusComp and ChanComp provide 2 staples of studio compression distilled into plugin form.
The EnvShaper plugin offers envelope-style transient control, allowing you to adjust the attack and sustain portions of complex audio material. Finally, DCAM CrossComp provides frequency-selective compression. Its high-quality crossover allows you to compress a specific range of the spectrum and mix it back in with the rest of the signal, offering flexible approaches to loudness and dynamic tone sculpting without having to use a complicated multiband processor.
All the DCAM Dynamics processors feature saturation circuits, built-in MIDI learn functionality and a variety of monitoring 'listen' modes. DCAM Dynamics operates at 2x oversampling, with a switchable Hi Def mode for 4x oversampling with extremely high quality results.
Highlights include:
Circuit-modelled plugin compression suite
Classic console bus compression
Channel limiting amp compression
Envelope Shaper for transients in complex mixes
Frequency-dependent compression for creative tone sculpting
Saturation circuitry modelling
2x oversampling with 4x Hi Def mode for extremely high quality
Built-in MIDI Learn for plugin controls
Secondary side-chain input and full MIDI control in compatible hosts
32-bit and 64-bit support
VST, AU and RTAS plugin formats on Mac OSX 10.6.2 and Windows 7
Pricing and Availability:
DCAM Dynamics is available as a download-only product from the FXpansion web shop! Pricing is USD $99.00, EUR €79.00, GBP £69.00 inc VAT where applicable.
To celebrate the launch of DCAM Dynamics, we're offering a totally FREE version of the DCAM Dynamics' BusComp. DCAM FreeComp is available here!.