Being a DJ, producer, remixer, music culture researcher as well as a label owner, Anna Gavanas is a mainstay of the Swedish electronic music scene. When producing, her perfect sense for musical intensity and mellowness guarantees a captivating listening experience. Tracks like »Technomad communitas« simply can't stop, won't stop.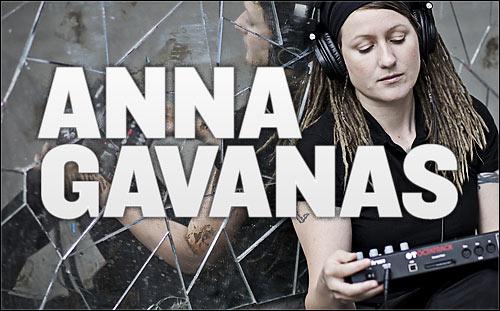 Has your background as a DJ influenced the way you produce music?
Yes I would even say that all those years as a vinyl DJ, since the late 1990s, constitute my musical training, lugging around and playing at clubs all over Sweden, the UK, Germany and the US. For me there was no better way to engage with music at a very deep level; deconstructing and reconstructing what sonic elements work, why and where. When composing tracks my DJ background works as a repertoire of influences and a framework of orientation. My DJ experience also allows me to estimate how musical components operate in context; on a dance floor, in a set and in creating a certain atmosphere. In addition, since I started off producing using Ableton Live in the mid-2000, this program turned out to be very straightforward for me because it is structured in a way that makes absolute sense to a DJ.
When working with a song, what elements do you pay the most attention to?
It depends on which track. Usually I go for a certain mood and try to find the hook that serves as the backbone for that atmosphere; it could be programming and processing of the drums, the bass line, a melodic element or a sample.
I begin by sketching some drums and samples in the Octatrack. Then I record samples (for instance percussion, electric bass or field recordings) and add hardware elements (Juno 106, Moog Little Phatty, Prophet 08, etc). I transfer all elements to Ableton Live where I work on the arrangement. Effects are very essential to the mood I am going for; especially reverb, delay and compression. I have a few gadgets for this in my bag of tricks. Arrangement is also very important to me; how to build the track and tell a story through sound over a time line. And of course the mixing and quality of the sounds is essential to get it all across.
As an academic researcher, you've published texts dealing with DJ culture and dance music. What are the most interesting conclusions you have drawn from your research in this field?
My main production as an academic researcher revolves around social policy issues (my first book was about Fatherhood Politics in the United States) but I have also been involved in a cultural studies project on electronic dance music culture. For this project I interviewed DJs/producers in Berlin, London and Stockholm and it struck me that there is a close connection between technology and spirituality in electronic dance music culture. DJs described their technology (sound systems, turntables, mixers, etc) as means of communication with dance crowds. DJs also described a spiritual energy linking themselves, technologies, dance crowds and sounds. By means of sound, DJs/producers have the capability to break down social and moral barriers and mobilize collective experiences, struggles and vibes. As artists and specialized guides to musical worlds, DJs/producers tell their stories through soundscapes, weaving together auditory elements and influencing the bodies, moods and emotions of dance crowds. However, regardless of the transgressive visions at the core of electronic dance music culture, at the end of the day there are still social structures, commercial conditions, global asymmetries and hierarchies at play. For instance, it is particularly striking how, across historical and geographic contexts, DJ cultures have revolved around men and masculinity and so have most studies thereof. Like other male dominated subcultural formations in society, knowledge, ideals and norms for "authenticity" and cultural capital in EDM culture are associated with men and masculinity regardless of genre or technological change. As a result, female DJs face a range of gendered conditions for credibility, impacting their career strategies and trajectories, as opposed to male DJs.
As part of my project on electronic dance music culture I published a two part audiotextual series in Dancecult, the international journal of electronic music studies. In these contributions I develop approaches to electronic dance music culture from a DJ/producer perspective, complementary to writing about it: bit.ly/Nn9jmB and bit.ly/MFCuoE
Together with my colleagues Bernardo Attias (US) and Hillegonda Rietveld (UK) I am now editing an international book called »DJ Culture in the mix«, which will be out at Continuum/Bloomsbury next year. My chapter in this book is written together with Austrian scholar Rosa Reitsamer and deals with social network strategies and social capital in DJ scenes, connections between technology and masculinity and gendered strategies in DJ careers. The book itself investigates DJ cultures in electronic dance music from international and interdisciplinary perspectives. DJ cultures emerge at the juncture of technology, performance, culture, and political economy in fascinating ways, with the DJ often functioning as a pioneer of aesthetic taste and musical technique. The book offers a refreshing international and critical approach to DJ cultures, bringing established scholars in popular music studies together with new voices in an emerging area of inquiry. Book chapters converge on the importance of questions of power, technology, and social change in DJ cultures.
For those who read Swedish, I have also published a book called Rundgång at Makadam publisher.
Do you have any new releases coming up on your label?
We just released our fiercest compilation so far: Nomads In Sound V3. For this compilation we have tracked down the most forward pushing dub oriented artists internationally, including Uzul (FRA), Késhava (EE), Mutamassik (ITA/US), PhOniAndFlOrE (FRA), Bass Trolls (SWE), Donna Maya (GER), Apurva (IN), Bass-Ul-Ulema Sound (BA), Hab (SWE) and Ombudsman (SWE).
We also just released the EP »7th day« featuring the grandmasters of Eastern influenced Bass music; Osmani Soundz, Nuphlo and Delta Star. Joined by Mumbai's Apurva, these guys are front figures of the renowned UK based Nasha Records label pioneering what used to be known as the »Asian Underground« scene since the mid-1990s.
As for the future, before we start considering »Nomads in Sound V4« we are planning to release an album with our new electronica artist Sidstar (SWE) as well as EPs with some of our favorite artists, such as Kutterfugel and Apurva. Further down the road we are planning a full length album with Bass Trolls.
Be sure to check out Anna's music on SoundCloud.
Anna photographed by Jessica Arneback.