Pioneer has broken the mould yet again with the XDJ-AERO, the industry's first Wi-Fi enabled all-in-one DJ system and native rekordbox player.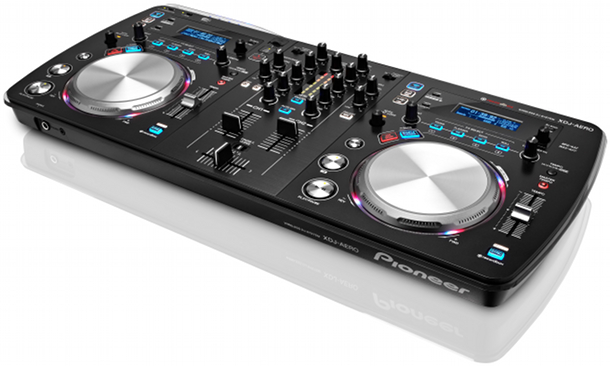 The groundbreaking DJ system is set to change the way DJs play by liberating them from endless cables and connections. In an industry first, the XDJ-AERO allows DJs to load music wirelessly from smartphones, tablets, laptops and PCs, instantly taking the hassle out of set up. A multipurpose unit, the XDJ-AERO also works with Pioneer's new mobile application, functions as a standalone mixer and can be used as a MIDI and HID controller.
The XDJ-AERO creates its own private Wi-Fi network, allowing DJs to connect to up to four wireless devices at once. The audience can even get involved by sending tracks from their own smartphones or tablets to the XDJ-AERO for a more interactive experience.
And, as the first native player for Pioneer's rekordbox music management software, the XDJ-AERO puts all of the software's features and functions right at DJs' fingertips. rekordbox allows DJs to create and edit playlists on the fly; view beat grids; analyse BPM; and load wave forms during their sets.
Compatible with Pioneer's new mobile application for smartphones and tablets, the XDJ-AERO makes DJing truly mobile. DJs can use the mobile application to manage their music on the road and then wirelessly load their tracks and playlists to the XDJ-AERO.
DJs can switch between the XDJ-AERO's mobile and USB inputs at the touch of a button. And the DJ system boasts all of their favourite features, including sample banks, Sound Colour Filters and rekordbox quantized beat sync.
The XDJ-AERO also functions as a 24-bit audio interface, MIDI controller for Traktor and HID controller for Virtual DJ software. And it can be used as a stand-alone mixer when connected to CDJs and turntables.
A premium piece of kit both inside and out, the XDJ-AERO has the look and feel of a pro-DJ product with its classic black finish and sleek aluminium faceplate. And, at just 45 mm thick, the portable, lightweight XDJ-AERO is the world's thinnest combined player and mixer.
The XDJ-AERO will be available from August 2012 at an SRP of 869 GBP/999 EUR, including VAT.