Allen & Heath will launch the XB-10 at PLASA, an ultra-compact broadcast mixer designed for a range of applications from small radio or internet broadcast studios, to college and university radios, podcasting and content creation. Based on the larger XB-14, the XB-10 has 3 mic/line and 3 stereo inputs and equipped with a similar range of features specifically designed for broadcasters, including a telephone communication channel, mic channel on switch sensing, stereo channel start/cue outputs for CD deck transport control, and automatic muting of speaker outputs.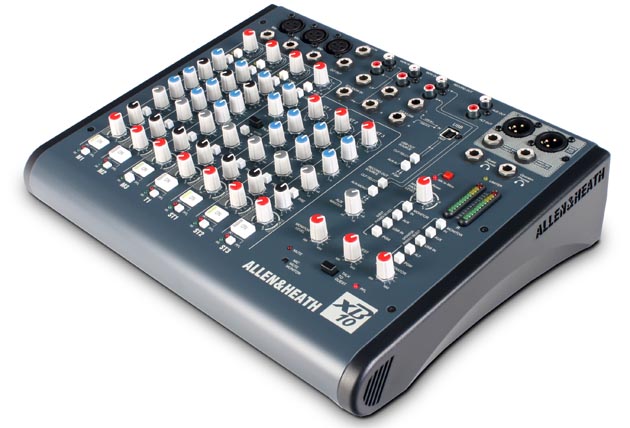 A separate monitor mix can be created for operator and guest or presenter, and the operator can communicate off-air to the studio or telephone callers using the 'Talk' feature. XB-10 also features a built-in full duplex USB soundcard, which has several routing options for recording and broadcast applications. The plug 'n play USB connection can be used for such tasks as VOIP telephone calls, recording programme material or playing jingles.
Each mic channel has its own CompACT (Adaptive Compression Technology) compressor, optimized to keep the dynamic range of a presenter microphone under control, and a variable limiter is provided on the main output to ensure that the final mix to air does not saturate expensive broadcast equipment. The preamp is similar in design to the industry-standard Mix Wizard range, which use low noise discrete transistor circuitry to achieve high gain and good linearity. Finally, XB-10 features a responsive 3-band, swept mid frequency MusiQ EQ with optimised slope for a variety of sources.
"The XB-10 is the only mixer at its price point with pro-broadcast specific features and interfacing and allows you to do more with less ancillary equipment such as VOIP communication using the USB interface and mix-minus Telco channel. It is the ideal mixer for low channel count broadcasts, interview shows and mobile applications," comments R&D designer, Mike Griffin.
SRP is £484 ex VAT.