Marc Anthony, Chayanne, and Marco Antonio Solis–three of the biggest names in Latin pop–are currently out on the road together on their 14-city North American GIGANT3S tour. Manning the house mix for Anthony once again is his longtime FOH engineer, Jose A. Rivera, Jr., who has recently chosen to apply an A-Designs HM2EQ HAMMER dual-channel tube equalizer and HM2 NAIL compressor/limiter across the stereo mix buss.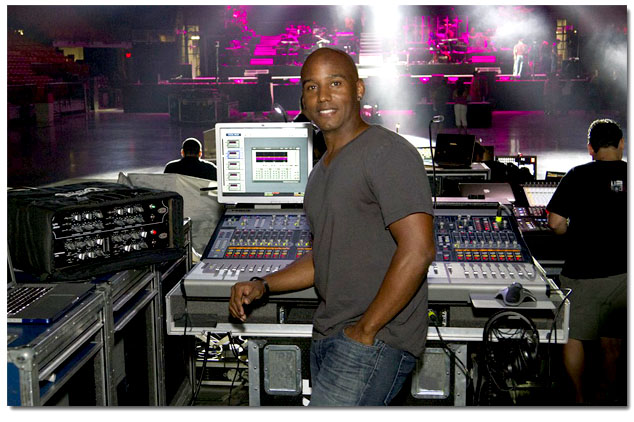 The idea came when Chris Cally, Anthony's guitar and bass tech, purchased several REDDI tube direct inject boxes then introduced Rivera to A-Designs President Peter Montessi. "A week before we went on the road, I had Peter ship me a HAMMER and NAIL so I could experiment with them a bit and consider using them on the tour," says Rivera. "When they arrived, I immediately used the pair to track bass and guitars in my studio and instantly fell in love with the sound of each unit. It was quite an experience."
"So I took them into our production rehearsals to see if they would also bring an improvement to our overall live sound," he continues. "After putting the HAMMER and NAIL across my stereo mix buss, I was stunned by the difference. Even without touching the EQ or compression controls, the pair brought such a beautiful warmth and musicality to everything. I prefer to use an Avid VENUE console on tour with Marc, which means that most of my processing is done via plug-ins, but the A-Designs combo sonically wrapped everything together so nicely, and it continues to wonderfully surprise me night after night."
Initially, Rivera was uncertain as to how he was going to utilize the HAMMER seeing that he typically relies on a graphic equalizer to tweak out offending frequencies. "Once rehearsals had started, I noticed that the HAMMER was not only extremely transparent, but that the way it added or subtracted frequencies was very musical. There was an instance where I felt there was too much of a buildup in the 500Hz range, so all I did was attenuate it by 1.5dB and it was just beautiful. Jorge Solorzano, the system engineer, and I were both amazed. We still have the graphic EQ on hand for one particular frequency, but when we want to address a range of frequencies–high, mid and low–I definitely run through the HAMMER first. It's a wonderful little surgeon."
According to Rivera, the only downside to his HAMMER and NAIL is that he doesn't have two of each. "The rack stays on the truck, so when I'm back in my studio between shows producing an EP for a local band by the name of Magazine Society, I'm definitely missing them very much. I guess that just means I'll eventually have to buy a second pair," he laughs.
The GIGANT3S tour, which is being reinforced by Guadalajara, Mexico-based PA company Procolor, wraps up with its final show on September 15 in Las Vegas, but Marc Anthony will continue to tour with Chayanne until mid-December. For more details on Anthony's road schedule, visit www.marcanthonyonline.com.