All-new American pro audio plug-in company Plugin Alliance is proud to announce availability of bx_rockrack PRO, a major update (V1.1) to the trailblazing bx_rockrack guitar plug-in par excellence recently released to critical acclaim by Plugin Alliance founder member Dirk Ulrich's renowned German M/S mastering tools and audio plug-ins company Brainworx.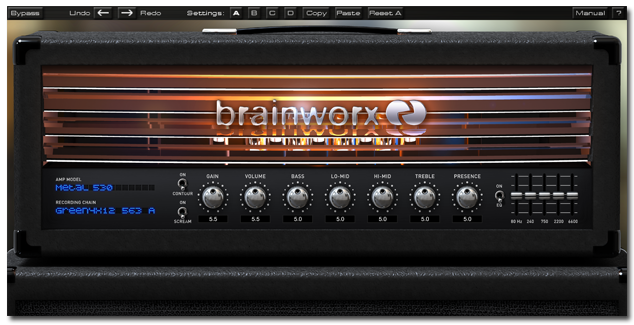 According to Ulrich, the original bx_rockrack broke new ground upon its June 15 release by "…not trying to emulate 112 amps with 254 microphones, but creating a plug-in that includes only a few amp heads, plus the complete recording chains of both Brainworx in Germany and The Mix Room in California."
Whereas most amp simulators force users to endlessly tweak endless simulations that frustratingly fail to deliver the promised sounds, bx_rockrack takes a different approach: a few (perfectly) modelled tube amps and complete recording chains, cleverly captured in some of the world's best-equipped recording studios by expert engineers. Simply select a speaker/recording chain, choose an amp, tweak the gain and EQ settings, and away you go! World-class guitar sounds, recallable and reliable. Sounds simple? It is — in use. Revolutionary? Without question!
But there's always room for improvement, right? So what's new in bx_rockrack PRO? First and foremost, it now features seven amps, including two new jazz additions to further widen its musical appeal, all meticulously modelled (using Marshall® 1960 TV, MesaBoogie® 4×12, Orange® 2×12, and Diezel® 4×12 cabinets) to sound like the following classics: Clean Marshall® JCM800®; Lead Marshall® JCM800®; Clean ENGL® 530; Lead ENGL® 530; Clean American Jazz Amp; Crunchy American Jazz Amp; and MesaBoogie® Rectoverb®. Other changes include a much-improved noise gate and an option to bypass those complete recording chains — NEVE® VXS72 plus TAB® V76 mic pre-amp (Brainworx Studio) and SSL® 9000K with vintage Neve® 1073 pre-amps and EQs (The Mix Room) via vintage Neumann® CMV-563, Royer® 121, and Shure® SM57 microphones — for anyone wishing to use other speaker simulator plug-ins. Users can even play live using bx_rockrack PRO by routing their computer output directly to an actual guitar power amp and speaker combo; try it… you might be surprised!
Brainworx has helpfully merged the original 'standard' bx_rockrack and new bx_rockrack PRO into a single streamlined product line with all existing users automatically qualifying for a free upgrade; simply download the V1.1 installer and you're good to go! Meanwhile, at $249.00 USD, the price remains unchanged for new purchasers.
Whatever your musical taste — be it rock, metal, jazz, fusion, or pop, why wait ten years to get your guitars to sound like the pros? Buying bx_rockrack PRO promptly delivers reputation-building results previously only possible in the best- sounding studios staffed by the most talented recording engineers direct to your (desktop) door. Or into your lap (top). No speaker emulator required. Got a guitar? Why wait at all?
bx_rockrack PRO. The all-in-one guitar sounds solution.
Available in 64- and 32-bit versions, Brainworx's bx_rockrack PRO plug-in can be purchased and downloaded (in all Mac OS X and Windows formats — VST 2.4, VST 3, RTAS, AU, AAX) directly from Plugin Alliance for $249.00 USD here. (Alternatively, customers can conveniently purchase any Plugin Alliance plug-in when walking into any Waves VSSD system-enabled store.)
See and hear bx_rockrack PRO in action on a Brainworx Studio-hosted session of award-winning German jazz outift Axel Fischbacher Trio (Axel Fischbacher, André Nendza, Ulf Stricker) with Fischbacher's guitar recorded live through the new jazz amp models here.