We all know the high-end HIFI and studio monitoring headphones by Ultrasone. Now, the manufacturer of high quality headphones has developed high-end DJ headphones. With their own experience and knowledge they drew on the experiences of DJs from all over the world in the development of these luxurious Signature DJ headphones.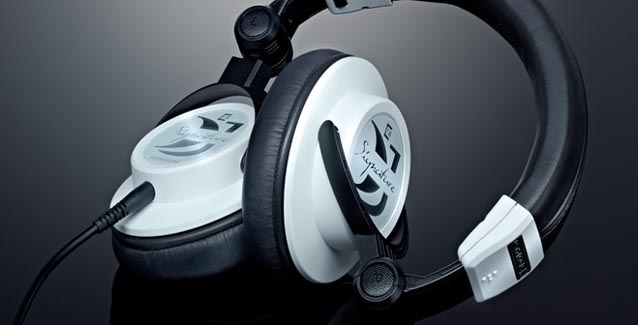 Something all passionate DJs have in common is the desire for an exceptional set of headphones. These unique Signature DJ headphones are the product of this background knowledge, our many years of experience in the professional music business and our passion for high-quality products.
The bass-oriented tone quality of the extremely powerful transducer reproduces entirely distortion-free music – even at high volume. Such bass precision and absence of distortion are a result of patented S-Logic PLUS technology. The Signature DJ headphones come equipped with patented MU metal shielding as a matter of
course, which in turn reduces electromagnetic radiation by up to 98% – a must for every health and safety conscious professional.
The Signature DJ are the first DJ headphones of their kind with ear and head pads made from Ethiopian sheepskin. Their acoustic insulation and superior wearer-comfort are unparalleled. Another exceptional quality feature of this luxurious leather is its ability to absorb sweat without causing the leather to perish or become porous. In order to underscore the exclusivity and quality of these DJ headphones the name plates are made of toughened glass and imprinted with reflective logos by means of a unique process.
These Ultrasone headphones have been specifically designed for use in clubs but are also perfectly suited for use on the move. The helix cable, delivered as standard, is ideal for professional use and can be used interchangeably between microphone and remote control – enabling the use of mobile devices everywhere.
Technical Specifications
Principle: Dynamic / Closed
Impedance: 32 Ohm
Driver: 50 mm Mylar
Magnet: NdFeB
Frequency range: 5 – 32.000 Hz
SPL: 115 dB
Weight (excl. cord): 300 g
2 detachable cords: coiled cable up to 3,0m, goldplated 6.3mm plug
1,2m straight cable with microphone and remote control, angled 3,5mm gold plated plug
ULE technology
S-Logic Plus technology
Ethiopian sheep skin leather head pad and ear pads
Real glass nameplates
Transportation case
The Ultrasone Signature DJ Headphones are available at a price of 1049 dollar excl. shipping.