Skweee, the mutant funk. Ultra-minimal, bare bones and impossibly catchy. Northern Europe has long been center of this scene, but thanks to the output of Moиöcням and friends, the city of Portland might just be the new skweee hot spot.
How do you combine analog and digital gear? What benefits do these different approaches to sound bring in your opinion?
A lot of the gear in our setup are combinations of digital and analog. One favorite hybrid is the vintage Ensoniq ESQ-1 Keyboard. It is in reality a digital 8-bit computer disguised as a waveform synth, featuring awesome analog CEM filters. Opposite to the ESQ-1 is the Moog Phattys we use. We use vintage samplers as well. They have raw gritty 8- and 12-bit converters and rather nice analog filters. So the fact is, nobody here feels good about taking sides with digital or analog. Because in reality, it's all good.
Many parts of our tracks are samples of samplers. Often we use old 12-bit samplers to program a rhythm or melody, then we hook it up to an amp, plug in a mic and resample the beats into an Octatrack. Inside the Octatrack the sounds are further chopped and effected. Every iteration is a rebirth of the previous generation of that sound. Things start to get interesting quickly. Flat and digital drums coming out of a TR-505 suddenly start to sound warm and rich with flavor. In our studio, the Octatrack is by far the most used tool of all right now. It's sampling flow is phenomenal. You waste no time and get things done. We like that.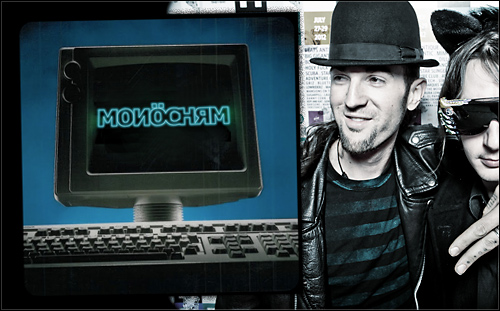 The loose feeling of the song »Party In Your Mind« is extremely musical. Was the bass line played in real time?
The groove in that bass must be credited in part to Elektron magic. The Octatrack has a strong role in that track as MIDI sequencer, live MIDI event processor as well as a sampler, drum machine and effects unit. Full power!
The idea for the bass line was to make the synth sound like a tuba horn, in a sort of broken march style. The filter sweeps and other parameters of the bass line were controlled by Octatrack LFO's and scenes. At certain high points in that track, the bass line breaks into fluttering arpeggios that reach octaves above the bass clef, thus turning a wonky bass line into a fervent lead. This is all thanks to the Octatrack MIDI powers.
The bass line was being played on an old school Kurzweil MIDIBoard through one of the Octatrack's MIDI tracks, controlling a vintage Korg EX-800 with the modern HAWK-800 and AutomaHawk upgrade mods. The upgrades allow CC MIDI control of many parameters of the synth. The Korg EX-800 is a funky machine and one of our favorite synths. In fact it is the only synth sound source used in that track.
There's a very VHS-like warmth to your tracks. How do you obtain this?
Coincidental that you should use »VHS-like« as a descriptor. Back when Johan was working on the DØS.pütin »Synthesize UR Life« EP, he got really into using an ADAT machine, which records audio to S-VHS tapes. »Party In Your Mind«, as well as most tracks on the forthcoming Moиöcням album, were being dubbed at Johan's Bassmobile studio onto a second hand »Blackface«. Blackface is a nickname for the original Alesis ADAT 8-track recorder. It allows for recording in digital or analog modes. We used both, first recording in analog, then dubbing down to digital and onward into the DAW. We were feeling put off by all this computer screen time that takes place now in our world. With the prevalence of laptops and cellphone screens, it's sort of a mess. When we come to the studio to create music we want to look at each other, not at screens. Since that realization we are always searching for ways to break away from the computers. Recording on ADAT was one of our solutions to this challenge. The Blackface rarely skips a beat and it syncs up well with the Octatrack and Atari ST MIDI sequencers we use. Although it feels slightly silly to be using such an archaic method to record music, this is what »Future Retro« is all about. Oh, and one last thing, Ashly compressors!
The skweee sound seems to be alive and well in Portland. Why do you think that is so?
For sure! Skweee, the mutant fønk. In the middle of the last decade we started to buy and share copies of skweee records, not necessarily because it was new, but rather because it was sort of a familiar sound in our undergrounds. Sort of like »Whoah! Somebody put this stuff on vinyl and they are from Sweden!«. A lot of us up here were in our basements, attics, garages or anywhere where we could hide from the long, dark, wet winters and shitty rock clubs. Don't know if you have heard, but we have a lot of rain up here. Sort of akin to the long and dark winters of Scandinavia. For those who are really into skweee, part of it is having a sound to warm up a place in your guts. It feels good to make something super funky out of next to nothing. Our own fønk style is all about efficiency. Making the most of the very least. Squeezing the fønk out of some shitty little Casio in the middle of a dark winter night. That's rewarding. We are not really calling what we do skweee, but maybe it does fit in there somewhere? Guess that is for somebody else to decide.
Lots of credit for introducing skweee also goes to JonAD and his Portland based label Losonofono, as well as his record shop Anthem Records. Fairly certain that he was the first American label to do skweee, as well as the first American shop to carry skweee vinyl 7″s and LP's. Shortly after Losonofono, John Calvin Murphy (aka LazerCrotch) started his label Poisonous Gases, also here in Portland. Both of these guys have been putting out some amazing records from the Scandinavian skweee originators such as Randy Barracuda and Daniel Savio. They have good catalogs, check them out. Also worth a mention is our friend Chance Stickem down in San Francisco with his skweee-centric label Titched. Really, if you look at the region that we call »Cascadia«, that stretches as far south as San Francisco, as far north in the US as Seattle and onward into Canadian British Columbia, skweee and other future funk styles are definitely emerging as prominent sounds and scenes.
Visit teknomadix.com to listen and download music by Moиöcням and related acts!