Harmony Systems announced the worldwide availability of Delora rsTouch, an iPad application that offers control surface functionality for the Propellerhead Reason music application on a Mac or PC. rsTouch emulates Reason's Mixer and transport functions, allowing nearly complete operation of Reason's transport controls and Main Mixer from the iPad.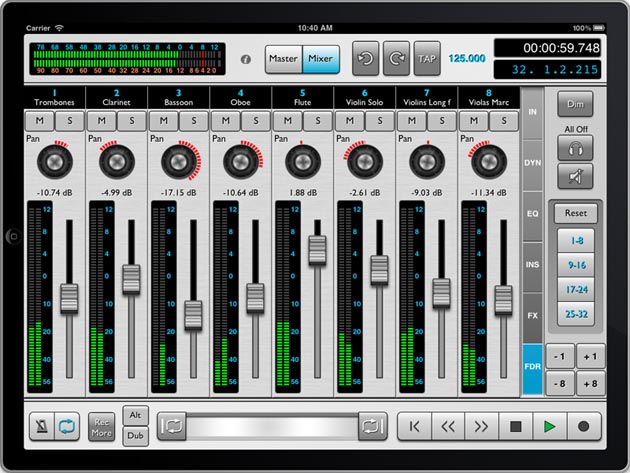 rsTouch works with Reason 6.5 or higher, Reason Essentials 1.5, or Record 1.5 installed on a Mac or Windows PC. It supports either "wired" MIDI connections using an iPad compatible USB MIDI interface, or "wireless" MIDI connections using iOS compatible network MIDI. Reason control surface support files are required and are available free from the Delora website, www.delora.com.
rsTouch expands the Delora Software line of music controller apps for iOS devices, including lpTouch for Logic, gbTouch and gbRemote for GarageBand, and vKiP and vKi for Kyma.
Features & Benefits
Record and mix songs, mute or solo any channel during playback. Channel fader meters, master volume meter, and "Big Meter" provide visual feedback to monitor audio levels. Set start and ending loop points and navigate through the song with the jog strip. Know where you're at with the timecode and bar-beat display, and channel name and number identification.
Sound setting and level adjustments are made easily with large, multi-touch, color-coded rotaries and faders. rsTouch's seven screens offer the ability to edit send effects, insert parameters, and EQ settings, as well as adjust channel, pan and dynamics levels. A dedicated Master screen allows full adjustments of Reason's Main Mixer master section.
Pricing & Availability
rsTouch is available for $9.99 (USD) on the iTunes App Store.