If you see the Zomo MC-1000 for the first time you'll notice it wants to look different then your usual average controller on the market. By its compact shape and limited amount of buttons, it's clear (to me) that this isn't intended to be a stand-alone controller. This device has been developed to be used together with a DJ mixer. It has the width of a 12″ club mixer, like for example a Pioneer DJM-850/900. Furthermore it is clear that the Zomo 'borrowed' some design features of Pioneer mixers.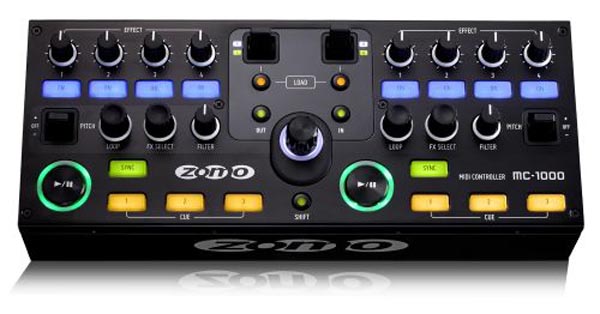 Layout
The first thing I noticed was the absence of the Cue buttons. I don't mean the Hot Cue buttons but the 'get me to the start of the track' cue button, which you do have on a NI X1 or a CDJ. How is it possible they don't add these buttons to a controller? Ok, you could assign a Hot Cue to it, but that means you have used
already one out of your three hot cues. Another method is to do it manually with your mouse in Traktor itself, but still, I think this is odd!
All rotary buttons on the MC-1000 are made out of a rubber material and the effect buttons don't have a center click, apart of the filters. The cue, sync and play buttons are made out of a plastic material just like the browser and pitch buttons. The controller itself has a complete metal housing.
The layout is as follows, in front of you there are two decks, which are switchable as there are four decks available. On top there are four effect rotaries with beneath it a press button to activate the effect selected. In the middel there's the pitch handle, with next to that the loop, fx select and filter rotaries. At the bottom, you'll find the play, sync and three hot cue buttons.
Between the two decks there's a navigation section, with which you can choose the deck to be controlled. Here is where you scroll your tracklist, and load the track to the desired deck. Finally we have a shift button that lets you, when pressed in combination with other buttons, add more functions. All buttons are very well lit so you wont have any problem using this controller in a dark club environment.
Operating the controller
Zomo have watched Pioneer very well, they kept it simple, well layed out and used most known (function) buttons. This ensures the ease of use for most DJs. Everything feels good and solid, and is located in the right place. Also the browser works well and easily. However another issue I found quite odd was the fact that the Pitch in Traktor was set as increasing (as standard) in stead with a Nudge functionality. I would have
expected that on a device without a pitch fader, but with big sync buttons. You could use the Shift button together with the Pitch handle however!
Sound
The MC-1000 has a four channel audio interface built-in, which you can use to route all four channels to your mixer with. The connections are located on the right side of the controller and are recessed away for better installation in the club. On the sound quality I can be very short, this was good!
Software
The MC-1000 is shipped with Virtual DJ LE which is an alright software, however I think most users will use this controller with Traktor. There are drivers available on the CD-rom. With my test I found the Zomo worked best with Traktor as many features duplicate the Traktor layout.
Verdict
As expected not all features of the modern DJ software packages are present on the MC-1000, which would be impossible, however all the main, most important features are present! The MC-1000 is shipped with Virtual DJ LE and is ready to work right away. Make sure you'll have RCA cables at hand as they are not included. And you'll need them to connect to your mixer (for audio). Also seperately sold are brackets for the controller so you can place it as you wish in your setup.
So if you are a DJ who wants to work with Traktor (or any other DJ software) and loves CDJ functionality, then this controller might be for you. There's no fuzz, just immediate functionality with a Pioneer feeling, look and usability.
The Zomo MC-1000 is available at 299 Euro (excl. shipping costs).