Big announcement from Ableton today. Not only did they release the details for Live 9 but they also introduced a specific Ableton controller, named Push. Ableton did the design of Push but they got help from the engineers at Akai Professional for this controller. Push combines Ableton's vision for music making with Akai Professional's years of experience making instruments.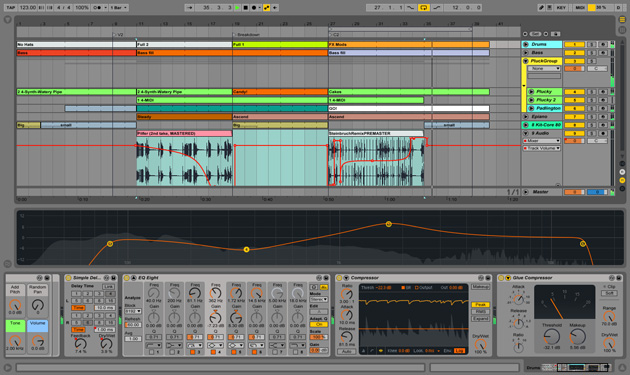 The most important new features at a glance:
• Session automation: In Session View, automation can now be recorded in real time directly within clips. Automation can move together with clips between Arrangement and Session View.
• Find sounds fast: Live's new browser puts all instruments, effects, samples, and plug-ins in one easy-to-navigate view. Drag and drop folders from anywhere on your computer, search as you type and navigate from the keyboard to find everything quickly.
• Discover new sounds: Live comes with a large selection (3,500 in the Suite edition) of production-ready sounds, which were carefully crafted with the help of over 40 artists, sound designers and engineers. All sounds feature Macro controls for fast access to their most meaningful, musical parameters.
• Get your sound right: Live's studio effects have all been reworked for even better sound and usability. The Glue Compressor is a new effect – an authentic model of a legendary 1980s console bus compressor. EQ Eight has an audition mode for isolating frequencies and an expandable spectrum display. The Gate and Compressor effects feature a Gain Reduction view which shows changes in signal level over time.
• Extract music from samples: Live's new Harmony, Melody and Drums To Midi tools extract natural-feeling MIDI directly from the favorite parts of your music collection. You can also sing, tap a rhythm, play any solo instrument, then use Melody or Drums to MIDI to turn your recordings into MIDI clips that you can edit and reuse with any sound.
• Edit the details: Transpose, reverse and stretch MIDI notes or warp clip automation and add curves to automation envelopes. New tools and an improved workflow allow fast and flexible editing of musical ideas.
• Max for Live – now in Suite: The Suite edition of Live 9 comes with Max for Live and its many unique instruments, effects and tools. Max for Live itself includes 24 new devices such as a convolution reverb, new drum synthesizer instruments, MIDI echo as well as reworked versions of classics such as Step Sequencer and Buffer Shuffler 2.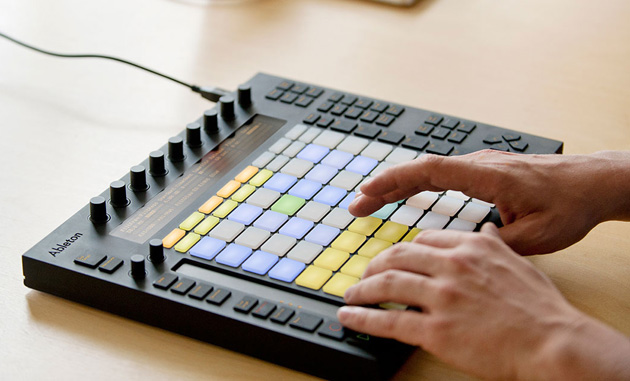 So what's Push?
Push is a new instrument that solves an old problem: how to make a song from scratch. With hands-on control of melody and harmony, beats, sounds, and song structure, Push puts the fundamental elements of music making at your fingertips – and it fits in a backpack alongside your laptop.
Play and sequence beats. 64 pads give you multiple ways to make beats. Play, step sequence, and navigate your loop – all at the same time.
Play
Play beats live with velocity-sensitive pads made by Akai Professional, and adjust sounds and kits while you play with eight touch-sensitive endless encoders. Hold a pad to repeat notes in time with your track while adjusting swing or the repeat divisions in real time.
Step Sequence
Step sequence beats directly using the pads for precise control. Select any step and tweak timing and velocity individually for each cell. See velocity and accents for each step shown on the Push's pads.
Navigate
Select which bar of your loop you want to sequence or adjust the length of the loop.
Pricing and Availability
Boxed versions of Live are priced as follows: USD 99 (MAP) / EUR 99 (MSRP) for Live 9 Intro, USD 499 (MAP) / EUR 399 (MSRP) for Live 9 Standard and USD 799 (MAP) / EUR 649 (MSRP) for Live 9 Suite. Push will be available for USD 599 (MAP) / EUR 499 (MSRP).
Upgrades to Live 9 Standard / Live 9 Suite vary in price depending on the Ableton products you already own.
Ableton Live 9 and Push will be available in the first quarter of 2013.