Word from Denon DJ is that their new MC2000 DJ controller is now available is stores right now. The MC2000 doesn't need to be plugged into a mains power supply for you to get thrashing out tunes – it's USB Bus powered which means if you want to show off your latest mix then you simply need to power up your laptop and plug in the MC2000 with a USB cable (supplied). Serato DJ Intro software detects the controller automatically and is ready to work from the moment you take out of the box and plug in – giving you true 'plug & play' functionality.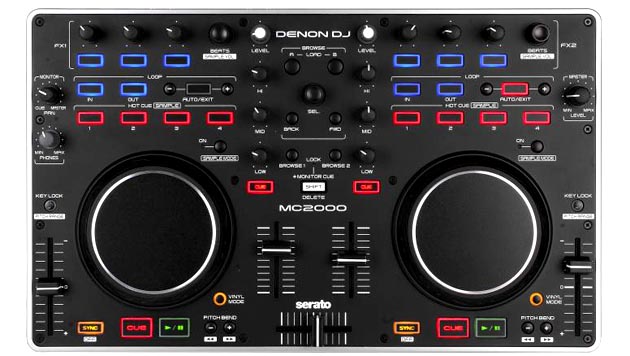 With an inbuilt professional-grade USB Audio Interface there's no need to use your computers processing power just to output sound or buy extra gear to get club-quality audio from your speakers. The inbuilt interface gives the option of running true high quality audio out of the MC2000 to a serious speaker set-up wherever you are; in a club, at a gig, or just at home setting up for a night of mashing-up tracks.
With its portable design and solid build; the MC2000 is the ultimate weapon in your DJ bag, completely redefining the quality and usability of its class. With every single detail aimed at improving value and retaining simplicity without compromising features and sound quality.
MC 2000: DJ Controller
• Designed specifically for 'Serato DJ intro' Software (included)
• Plug & Play – USB Bus Powered
• Full MIDI Output – Map to other DJ Software
• Denon DJ 'Professional Grade' Construction
• Intuitive File Browsing Controls
• Built-in Audio interface
• MIC Input /Line Input
Note: The MC2000 has been developed with Serato DJ Intro in mind but there's now a Traktor .TSI file available from Denon themselves. You can download the file here.