The ESI UDJ6 is a new professional level 24-bit USB audio interface featuring 6 totally independent output channels. This tiny interface measures just 7cm in length making it ideal for digital DJs working on the road. Two stereo outputs (channels 3 to 6) are provided with RCA connectors on one side of the small and compact bus-powered interface, in its stylish aluminium case. The other side features a stereo headphone output for 1/4″ stereo connection (providing channel 1 and 2 signals).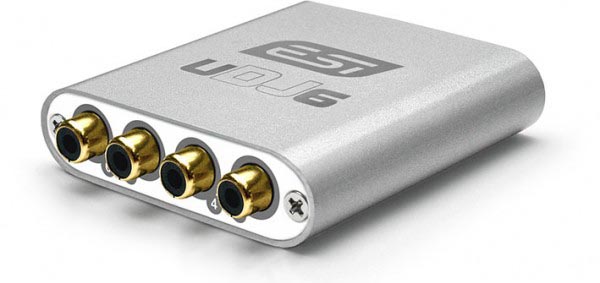 Measuring a mere 7cm in length, the UDJ6 is the perfect solution for DJs on the road. This professional level 24-bit USB audio interface features six totally independent output channels – two with 1/4″ TRS headphone output and four with RCA connectors.
Of course, every output channel can be accessed totally independently from within any modern DJ application for Mac OS X or for Windows. This compatibility is provided by the included ASIO 2.0 drivers for Windows XP / Vista / 7 (32-bit and 64-bit) and the full CoreAudio support for Mac OS X.
Simply use your favourite DJ software and mix your tracks the way you like it!
UDJ6 comes bundled with a license of Deckadance LE from Image Line Software, a powerful DJ software that was written by DJs for DJs – simply start DJing with the separate output channels of UDJ6!
Features
24-bit / 96kHz D/A converter
6 independent output channels
2 output channels with 1/4″ TRS headphone output
4 output channels with RCA connectors for output 3/4 and 5/6
compact and portable design measuring 7 cm x 6 cm x 2 cm
compatible with Windows XP/Vista/7 and Windows 8 32/64 bit
compatible with Mac OS X 32/64 bit
includes license of Deckadance LE from Image-Line Software
RRP: £89.00 / €119.00