We knew something was coming from Yamaha. And because yesterday we saw some specifications appearing on the internet, Yamaha probably decided to let the cat out of the bag today and introduced the MX49 and MX61 synths.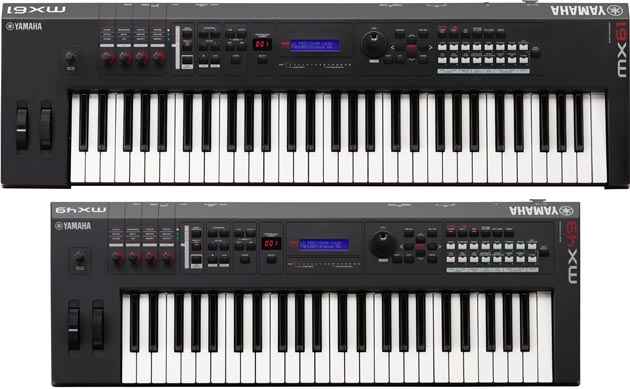 The MX series synthesizers feature carefully selected sounds taken from the Yamaha MOTIF XS. That powerful sonic palette is packed into sleek packages (available in 49- and 61-note versions) that fit today's on-the-go life style. But the MX Series aren't just synthesizers; they are designed to bridge the gap between hardware and software. By adding extensive audio and MIDI USB connectivity, advanced DAW and VST controller features and a suite of powerful music production software, the MX integrate hardware reliability with controller flexibility to give you the best of both worlds at a ground breaking level of affordability.
The new MX series combines Motif XS sounds, USB Audio/MIDI connectivity and advanced DAW/VST controller
features at a ground breaking level of affordability.
– Over 1000 sounds from the MOTIF series
– Equipped with VCM effects
– Easy Split /Layer Performance Mode for Instant Inspiration
– 16-Part Multi timbral and 128-note polyphony
– Extensive Hands-On controls for VSTs and DAWs
– Bi-directional USB Audio/MID interfacing
– A complete suite of music production software included
– A lightweight design with a quality Yamaha keyboard
– Complete analog and digital connectivity