World renowned music producer Gui Boratto has teamed up with Reactable Systems, along with his music label Kompakt, to create a ground-breaking music experience: "Reactable Gui Boratto".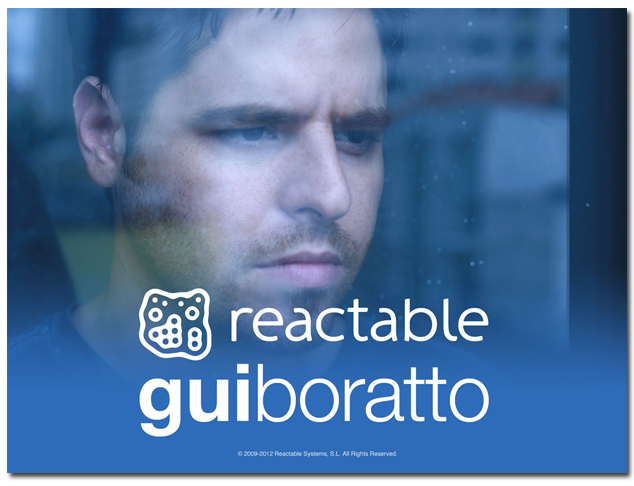 Gui Boratto throughout his career has strived to create extraordinary and compelling music. His talent for production and eagerness to always be in the front line of innovation have led him to produce an app that could transmit the intricacy of his tracks as well as engage and entertain. Fueled by this desire to excite, innovate and create a deeper connection between the audience and the music, "Reactable Gui Boratto" is a captivating and cutting edge way to interact with some of Gui's greatest hits.
This album app allows you to enjoy his music, and, at the same time, enables you to create your own version of each track. You can also combine all the tracks together to create something new and unique.
What is truly different lies in its performance feature, where you actually see how the track is being played and step in to add effects, change loops, change anything you want, just like if you were performing Gui's tracks along with him.
The songs were hand-picked by Gui Boratto himself and include his critically acclaimed hit Beautiful Life, which comes alive step by step, taking you right into the complete yet exclusive version only available to "Reactable Gui Boratto" users.
The complete track list includes:
Like You (Single from 2006)
Beautiful Life – Chromophobia (2007)
Azzurra – Take my breath away (2009)
Stems From hell – III (2011)
The concept behind the app has its roots in the unique electronic instrument Reactable – also used by Gui Boratto in his studio in Sao Paulo – where a tangible interface facilitates an intuitive and groundbreaking approach in music creation. Based on the same sound engine, "Reactable Gui Boratto" converts the multi-touch surface of mobile devices into a powerful tool that allows pros and newbies to intuitively interact with his top-of-the-chart tracks.
The project was made in collaboration with prominent music label Kompakt, whose progressive and innovative outlook on music and the music industry helped make this production a reality.