Akai Professional will also exhibit MAX25 on the NAMM 2013. Its a compact version of the innovative MAX49 USB/MIDI/CV keyboard controller that was released in 2012.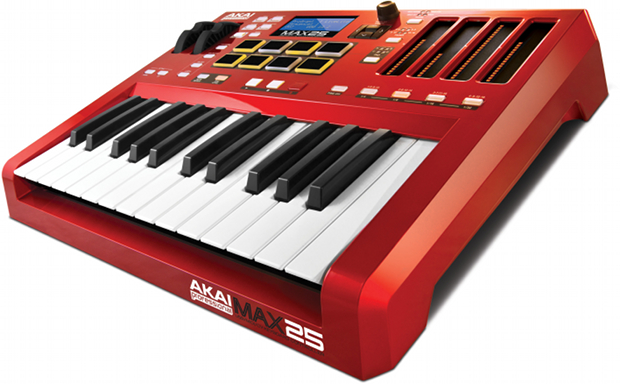 MAX25 has all of the same cutting-edge features as MAX49, including CV/Gate output, semi-weighted keys with aftertouch, a built-in step sequencer, expanded arpeggiator, and revolutionary LED touch faders for gradual or instant parameter value changes.
The difference between MAX49 and MAX25 only lies in the number of onboard controls. Where MAX49 has 49 keys, 8 faders, and 12 pads, MAX25 has 25, 4, and 8, respectively. Like MAX49, MAX25 will come with AkaiConnect automatic-mapping software and Mackie Control® and HUI® modes for instant compatibility with many DAWs.
"This is a controller that's made to be in front of a crowd," said Gill. "It's everything people love about MAX49 but in a compact package that will fit perfectly in front of a laptop on stage."
25 semi-weighted keys with aftertouch, 4 LED touch faders
Included AkaiConnect software automatically maps to VSTs
8 MPC pads, MPC Note Repeat, and MPC Swing
4 pad banks, 4 fader banks: 64 assignable pads, faders, and buttons
Step sequencer and expanded arpeggiator
CV & Gate outputs (1V/Oct), Mackie Control® and HUI® modes