Allen & Heath has launched the new ME Personal Mixing System, a next generation personal monitoring solution, universally compatible with Allen & Heath and other pro digital mixers. Central to the ME system is the small, easy to use and fully-customisable ME-1 personal mixer, powered and connected via CAT5 and capable of managing up to 42 sources. The accompanying ME-U hub enables star connection of multiple ME-1 mixers and interconnection to other professional digital mixers via MADI, Dante or EtherSound.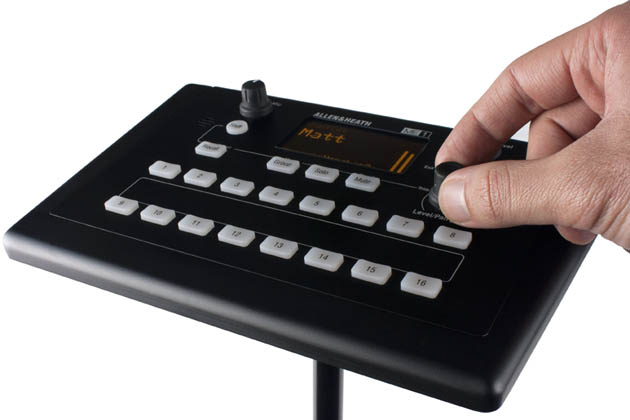 Up to 40 sources
ME-1 receives 40 sources via CAT5 (either mono or linked as stereo), and has a built-in ambient mic and local stereo aux input. The mixer's flexible grouping function enables any combination of sources to be mixed and laid out on the surface from a simple 2 button 'Me and Everything else' set up to a full mix of 16 buttons, allowing the user to control the whole mix with just 16 or fewer keys. The configuration and up to 16 presets can also be stored, recalled and transferred via USB key for quick set ups or archiving.
ME-1 Layout
It's layout incorporates backlit keys, soft rotary control, separate mic and mix levels, and an OLED display for custom channel naming (it is possible for names to automatically load when the mixer is connected to an A&H digital console). The mixer uses Power Over Ethernet (POE) or can be mains powered using the included power supply. A mounting bracket for easy attachment to mic stands and a convenient headphone holder are also supplied. There are headphones and earpiece sockets, and a mono output for connection to powered monitors. Two locking EtherCon connectors allow daisy-chaining or star topology connection using the ME-U or off-the-shelf Ethernet hubs.
The ME-U is a touring grade, 10 port PoE hub providing power and audio to connect multiple ME-1 mixers. It comes with a standard input card to interface with GLD, iLive ACE or Aviom A-Net, which can be replaced with a MADI, Dante or EtherSound card to take a digital feed of up to 40 sources from third party systems.
"Our new ME System balances sophisticated set up and simple operation, adaptable for use on stage or in any rehearsal room, house of worship or recording studio. We have listened to requests from engineers and installers for tools to create a truly bespoke mix for each artist without burning precious buses on the main mixer but at the same time we wanted to make the performer experience as effortless as possible using just a few simple controls. The end result should be quicker sound checks, lower sound levels on stage and happy musicians!" comments A&H product specialist, Nicola Beretta.