Looking at the picture we understand why they call it SparkLE. Just look at those color LEDs. SparkLE is the newest hybrid instrument from Arturia that will take your beat creation to new levels. By combining the amazing sounds, work flow and creative tools of the Spark Engine software, with the high quality SparkLE controller, Arturia has created the ultimate beat creating powerhouse.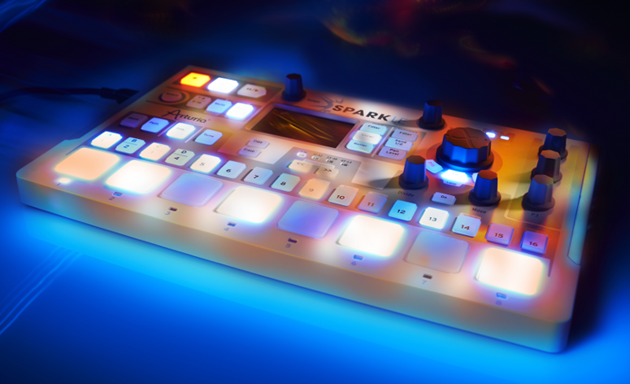 The SparkLE hardware and the Spark Engine software make up a sophisticated beat creation environment that gives you a hands on, inspiring and unique way to create patterns, sounds and live performances. It is simple to use and create on but without sacrificing the depth of editing and tweeking that you need to polish your tracks to perfection.
Hardware shouldn't be hard
SparkLE gives you that classic 'TR' style workflow by inputting your patterns from the step sequencer buttons or letting you choose to lay down your beats in real time using the 8 velocity and pressure sensitive backlit pads. Create stunning live performances with the advanced Looper and the XY pads beat slicer functions.
Quickly load projects, kits and instruments using the jog dial encoder. Transform your beats with the touch sensitive FX pad that features 8 filter modes (including our Oberheim SEM filter) and 7 different Slicer modes.
Write automation and control your sounds in real-time with the 3 assignable encoders and the 3 Instrument modes on the XY pad.
The TUNE mode allows you to choose an instrument and then play chromatic pitches across the 16 buttons or the 8 pads (depending on your preference settings). This allows you to have your kick drum follow the bass root note for deep lows, play a synth bass/lead sound or transform a percussion sound into a pitched instrument.
Software that is not soft on features
The Spark Engine features sample playback and layering, but then goes beyond any other drum software by adding a Virtual Analog engine, that is based on our famous TAE® analog modeling technology, as well as a Physical Modeling engine that allows you to create some amazing realism in your sounds. The vast sound library, that is constantly expanding, gives you top notch, pro sounds that cover a variety of genres and styles designed to get the people up on the dance floor. You can further enhance all this within the Studio and Mixer pages that allow total control over your sound and final mix.
A wide range of excellent quality and unique effects allows you to create super basses, tight snares and wildly processed samples and synths. Along with the Spark Engine's endless array of sonic possibilities, the Pattern view page shows a detailed view of your current beat and automation channels. You can go in with surgical precision using pencil and line tools to create or edit automation for each instrument, parameter, and effect.
Add to this a Song mode that allows you to chain your patterns to create full arrangements ready for mix down.
The Spark Engine has a 1:1 interface with your hardware that allows you to see what is going on and gives you an excellent user interface for those times when you aren't using your hardware to control the software (yes, some other systems won't work without the hardware attached). In essence, SparkLE is a fun, straight forward and most importantly, musical experience that will inspire you every time you use it.
Main Features:
Full featured Spark Software
3 synthesis engines: Virtual analog, Physical Modeling, Sample playback
Works Standalone & as a plug-in (VST, VST3, AU, RTAS)
Backlit velocity and pressure sensitive Pads
Touch sensitive FX pad
Mode selector – Bank, Pattern, Seq, Tune
Bus powered, class compliant USB input
User assignable encoders
Advanced Looper Divide/Move function
Classic 'TR style' programming
Real-time programming from the pads
Protective travel sleeve
Small, Portable, Solid construction
MIDI mode for use as a controller with any software