Arturia's MiniLab USB Controller marries the style you love with the hands-on control and portability you need to take your studio wherever you go. Made for the musician on the go or the performer with limited space, the MiniLab gives you a great depth of features in a portable package that is sturdy and looks great. Combined with the Analog Lab software, you get a real hybrid synthesizer that comes with a collection of 5000 sounds from the Modular V, CS-80V, Mini V, Arp 2600V, Jupiter 8V, Prophet V, Oberheim SEM V, and Wurlitzer V.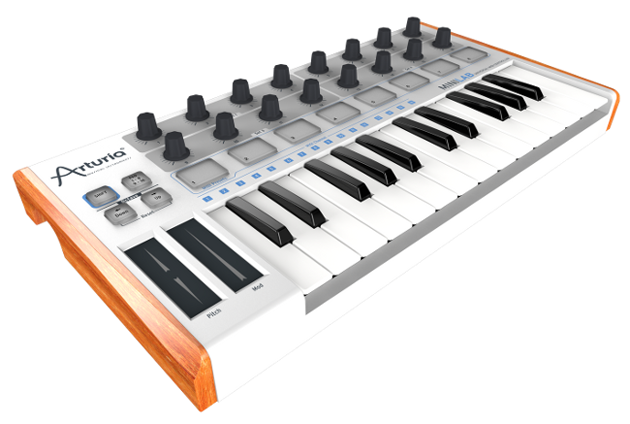 Control Freak
The MiniLab offers you more control options than any other compact USB/MIDI controller on the market. Minilab features 25 velocity sensitive mini-keys alongside our brand new pitch and modulation touch controls, giving you maximum expression and playability in a highly portable package. 16 encoders make sure you have everything you need to program or perform wherever life takes you. Two banks of 8 backlit performance pads, for 16 total, can easily be assigned as pads, MIDI CC buttons or Program change switches. The recessed full sized MIDI jack will keep your connection safe and out of the way. Add to all this, an assignable pedal input jack and you have the premiere mobile keyboard solution.
Thanks for the memories
Having direct access to 8 user presets further expands all of this control. MiniLab offers our free MIDI Control Center software that lets you map parameters in a simple and easy way directly from your computer. Those presets are then stored in the hardware for instant recall.
Take it on the run
The MiniLab keyboard is designed for maximum portability, flexibility and performance. It is small enough to fit in a laptop bag but big on features. The 16 encoders and the ergonomic spacing of the knobs keep this small controller from feeling cramped. The touch sensitive faders for Pitchbend and Modulation offer low profile controllers with 'last position hold' or 'return to zero' modes of operation.
Hybrid Synthesizer
The power of the features and visual styling are obvious but sound? Yes, sound, we also include our new Analog Lab software. This software gives you over 5000 of the best classic synth and keyboard sounds around. The interface also adapts to your MiniLab interface for a nice 1:1 user experience.
The front panel controls will automatically map to the most used parameters of each sound in Analog Lab. Functions like Cutoff, Resonance, Envelope controls, LFO rates, etc. all are mapped automatically to the knobs on the front panel.
You can browse and load your sounds from the hardware that gives you a true hardware synth feel. The pads on the MiniLab give you two different performance features.
Pads 1-8 allow you to set up chords that you can recall. This is perfect for triggering arpeggiated sounds that you want have play a specific set of notes or set the pad to Toggle mode and allows you to hold ambient drones.
Pads 9-16 allow you access to snapshots. Snapshots are a way to choose a collection of your favorite SOUNDS or MULTIS for instant recall.
MAIN FEATURES:
25 note velocity sensitive mini keyboard.
16 encoders
16 pads (two banks of 8 pads/buttons)
Pitchbend/Modulation touch strip
Footswitch input
Recessed full sized USB jack
Bus powered, Class compliant
Works with iPAD (camera connection kit required)
Comes with Analog Lab software
5000 sounds from the best synths and keyboards