Behringer has introduced its new iSTUDIO family of professional docking stations for Apple iPad versions with 30-pin and Lightning connectors, at this year's NAMM show in Anaheim, CA. With iPad sales soaring­—an estimated 60 million in 2012 alone—the iSTUDIO series is destined to become the platform of choice for musicians, DJs and music producers who want to record and produce music quickly and easily.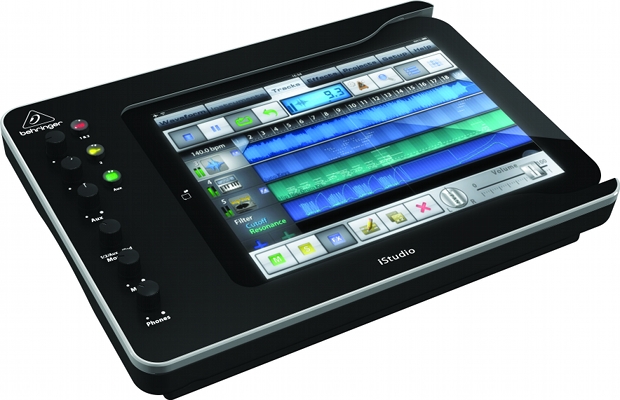 iSTUDIO provides straightforward and direct connectivity for microphones, guitars and basses, MIDI devices, line level sources and even turntables—all with adjustable gain, independent output and headphone controls plus a superb direct monitoring option. MIDI accessibility is provided via standard and USB MIDI sockets for drum machines, samplers, synthesizers or even DAW software. A convenient Video Out connector allows the iSTUDIO iS202 to interface directly with video monitors.
Compatible with all CoreAudio and CoreMIDI apps in Apple's App Store, iSTUDIO is the ideal companion for musicians/producers and comes with a universal power supply and country-specific wall socket adapter—plus, iSTUDIO's exclusive battery operation allows the user to create and produce music on the road.
iSTUDIO's rugged, yet lightweight chassis provides easy docking with iPad/iPad 2/iPad (3rd generation), while the iSTUDIO THUNDER features the new Lightning connector needed for the latest-generation iPad and iPad mini. All iSTUDIO products can be placed on a tabletop—or mounted on mic, music or drum stands via an optional hardware kit.
Jan Duwe, Senior Product Manager, says: "iSTUDIO is the perfect companion to music production apps such as Apple's Garage Band that will not only serve the needs of musicans but also encourage anyone to experience the joy of making music."