Behringer announced the X32 last year as 'The Game Changer'. This is quite the bold statement to be honest, … and is this statement correct? Well, let us be the judge of that. The behringer X32 is a digital mixing console and midi controller. This studio and live mixing console has full digital control with some stunning specifications. Just to name a few: 32 analog inputs, 16 mix busses, 8 DCA groups, 32 IN and 32 audio OUT USB/FireWire audio interface, color display, Mackie HUI Midi controller, LCD and LED VU meters (per channel), virtual effect racks with 8 stereo slots, and on and on!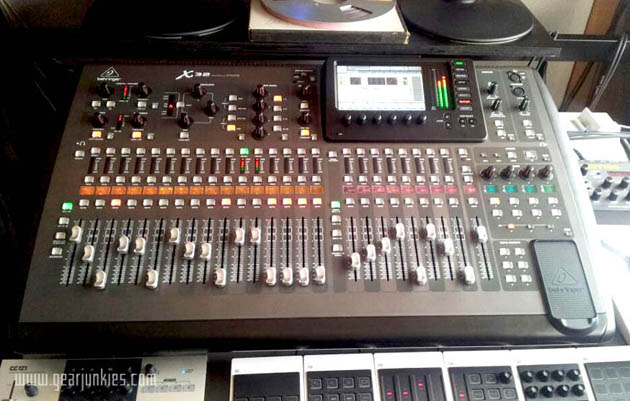 Now you might think, well it's still a Behringer. Uhm, yes, that was my initial thought as well. At first! However, the X32 has been developed in co-operation with Midas. This means that the pre-amplifiers, the AD/DA converters and GUI come from the people at Midas. So, soundwise we are good. The review unit I had in my studio is a pre-release model as there wasn't a manual, the drivers for the audio interface were still in beta stage and the firmware was still in its first version as well. I am telling you this just to explain I had to do a little pioneer work at first.
Hook it up!
So out goes my Mackie analog table and in with the Behringer X32. After the installation of the drivers (audio interface) I encountered my first problem. Everything is XLR, the INs and OUTs. My own Mackie has Jack and XLR. This meant I couldn't connect all my instruments to the X32 as I use unbalanced Jacks for my instruments. Combined Jack/XLR inputs would have been better.
Let's continue with the inputs and pre-amplifiers of the X32. I connected my Roland Jupiter 80 and started playing. First thing I noticed was the fact it was a digital console. Maybe it is because of my 20 year (plus) experience but I did miss that analog edge in the sound. But, let's continue. When you add some gain to the signal you'll hear the power of this mixer. You can combine two mono channels into one channel. Both the motorised faders are coupled, plus you'll have only one signal path for your gain, EQ, compression, etc.
The X32 has a 4-band parametric EQ which you can operate with three rotary buttons. By pressing the view button you'll get to see the EQ in the display, plus you can see all the settings in one glance. And this goes for everything: the pre-amplifier, the compressor/gate, the seperate monitor-out bus, everything can be displayed with the view function. It will give you a perfect overview of the channel settings.
Operation
For each channel there's a color display. This way you can set a different color for each channel on the X32, together with a pre-progammed icon and give it a name. I found the display not that good readable in a studio environment,
especially when you are sitting behind the table. In a live environment this would be less of a problem as you stand behind the console and look more down onto the table. You could adjust the setting of the contrast, if you have a problem with it, however then all the LED's will shine much brighter. So not ideal, I think.
To operate the table however is lovely. Everything you want to know about your effects, routings, channel settings, etc. are fully displayed. However, I wished Behringer would have looked into the readability a bit more. Next to the contrast, they have used a small font. Maybe this could be solved if the display would be tiltable. The X32 can be connected through a network to your computer with a free software. This way you could operate you mixer with your computer. Better said … should. I have tried it several times, even direct to my laptop, but I couldn't succeed! So this function hasn't been tested. And that applies to the iPad/iPhone app as well unfortunately.
Effects
The effects can be operated with four encoders with each their own mini-display and are all routable. You can see all the info the display as well here. You'll see a virtual rack with all effect settings displayed. The sound of the effects are good. Maybe the reverb has a bit too much high but that's easy to correct. All in all the effects are very well usable.
Audio
The audio interface is very good in my opinion. You have the choice of USB or FireWire. You will see these 32 IN and OUTS instantly in your DAW and you can get these to your mixer from the software easily. Plus there is the option to use the X32 effects on your audio and send it back into your DAW. The setup I used to test this out was a WIN7 64bit Hexacore PC with 32 channels with 6 mn latency via USB! I really have to admit that I was truly impressed with the results. With FireWire you get an even lower latency. I got to 3 milliseconds.
MIDI
Next to being a mixer the X32 is also a midi controller for your DAW. The midi driver is installed together with the audio driver. Choose a setting in your DAW and it's off to work. On the left side of the X32 is a control button, click on it and the 8 faders on the right go into midi mode. With these faders you can now operate your channels. The LEDs on the X32 will work, and even the of the audio channel are being displayed. Unfortunately htere is no transport bar. For this you could use the bus knobs (like a shift function). In the display 'play', 'stop', etc. appear. The absence of the transportbar is a shame I think. I wouldn't mind to get rid of the ugly plastic iPhone holder. Why not put a transportbar or jog-dial there. That adds more function to the console then a space to put your iPhone!
Verdict
I really think the X32 is a great mixer for any producer who is looking for a combination between an analog and a digital mixer with a midi controller. Even with all its features and functiuons the console is still pretty compact and will suit any small studio. Another feeling I had was that this mixer breathes 'live' performance as well. I am sure this console would operate with live acts very good as well.
The X32 has a few issues with the finish. For example not all LEDs light up evenly, not all encoders light up, fader buttons are made out of plastic which, if not used right in the middle position, can fall off. Saying this you might think that I have a comment on almost every feature. Let me assure you that's not completely true. Yes, … it's a Behringer and there were these issues I can and will criticise on. Another thing I like to point out is that we got a pre-release review unit, which (maybe) could have some quality issues of course. However this is a very usable mixer for the studio and in a live environment. The sound quality was superb and the actual usability very good too. Especially when you look at the cost of the X32. The Behringer X32 costs around 2800 Euros, and then you are entitled to make a few comments. I think Behringer has made some concessions to keep this mixer below the 3000 euro sales price. Hopefully Behringer will fix these little issues in the future and will make a great mixer even better!
If you want more information or like to learn more about the X32, Behringer is giving free webinars on this mixing console.
X32 & Logic In-Depth
Saturday, November 10, 2012
10:00 AM – 12:00 PM PST
Subscriber link: www4.gotomeeting.com/register/166061679

X32 Busses: DCA's, Subgroups, Matrices, and Mix Busses
Monday, November 12, 2012
1:00 PM – 3:00 PM PST
Subscriber link: www4.gotomeeting.com/register/197339399
Since space is limited, BEHRINGER recommend reserving seats immediately. For more information about the X32, please visit BEHRINGER.com/X32