Gemini is pleased to exhibit the PLAY2GO, a powered 2-way speaker system with a built-in USB/SD/Bluetooth MP3 player. Gemini will give NAMM attendees a chance to see and listen to their new product at Booth 5700 Hall B.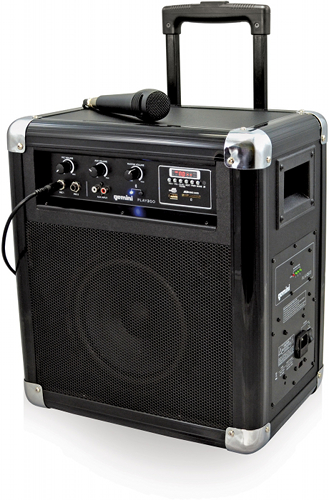 The PLAY2GO portable PA and MP3 player makes any small event or venue needing a sound system simple to setup and tear down. Roll the PLAY2GO in on its 2 wheels by the retractable handle, flip the on switch, and it will run off its rechargeable battery for over 12 hours.
Play tracks wirelessly from a mobile phone through the Bluetooth enabled MP3 player or connect to one of the microphone inputs with the included professional dynamic microphone. With 50 watts of power the PLAY2GO will project sound upwards of 150 ft. leaving the entire audience surprised at the clarity and volume of such a compact sound system.