With the launch of the DL806 and the first showing of DLM Series Powered Loudspeakers at Winter NAMM, Mackie proudly presents a new technology-packed live sound solution – the DL/DLM system.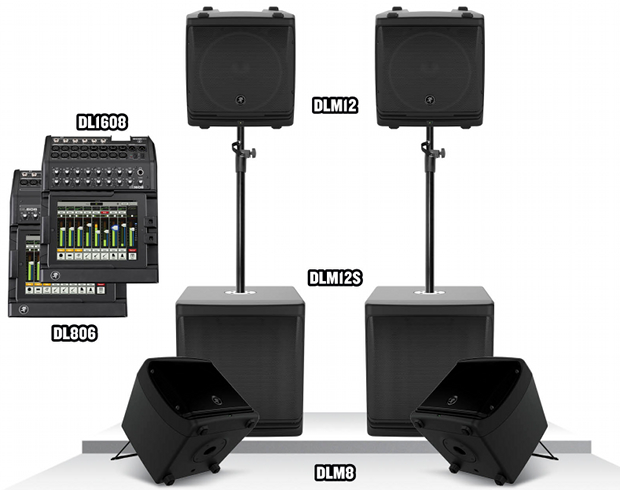 "With a DL Series mixer and DLM loudspeakers, you have an extremely powerful and portable PA system with a level of innovation unparalleled at the price point," commented John Boudreau, Mackie SVP. "We've invested heavily into technology and it shows. Both products are great on their own, but the combination is truly greater than the sum of its parts. If you are ready for a system refresh, now is the time."
With a range of DLM loudspeakers and a choice of input configurations for the DL mixer, a DL/DLM system can easily work for a wide variety of applications. Never before has such a powerful system been available in such an ultra-compact design. The groundbreaking form factor of the DLM Series alone reduces size by a third and eliminates nearly 20% of the weight when compared with traditional 2-way loudspeakers.
But it's the advanced technology that really sets this new system apart. Using premium components and boasting superior DSP, a DL/DLM system offers a better sonic experience than ever possible before. Innovations like the DL's wireless mixing ability, choice of channel plug-ins and robust recall system offer professional features previously unavailable at this price point. Equally innovative are the DLM speakers, with unmatched power and performance at a size and weight that changes the very definition of the word portable. Features like multiband feedback elimination, alignment delay and an ability to store presets set a new standard in the world of portable PA.
"And since the system is all Mackie…," remarked Boudreau. "…the technology never gets in the way. A DL/DLM system is extremely easy to use and the advanced features fit naturally into the workflow. New users will get all the benefits right out of the box. After all, we are dedicated to creating technology that empowers the user. We want you to simply plug in and be awesome."
Mackie's DL Series digital live sound mixers include the popular DL1608 16-channel mixer and all-new DL806 8-channel mixer, both of which feature total control from the Apple iPad. There's also the My Fader control app for use with an iPhone or iPod touch. With the ability to mix wirelessly from anywhere in the venue and the best user interface available, DL mixers have proven themselves in the marketplace and have garnered rave reviews from users and industry alike.
DLM Series powered loudspeakers are showing at NAMM for the first time and aim to change the shape of sound with their innovative form factor, hefty power ratings and the first-ever onboard digital mixer with a host of channel mixing tools and system processing. The DLM8 and DLM12 are full-range, 2000W powered loudspeakers with an integrated digital mixer complete with 16 effects and robust system processing. The DLM12S is the companion 2000W subwoofer with ample system protection and processing.
For complete details on Mackie's DL/DLM live sound system including links to videos, specs and more, visit the Mackie DL/DLM website – http://www.mackie.com/SimplyAdvanced DL Series Digital Live Sound Mixers with iPad Control include the DL1608 and DL806. DLM Series 2000W Powered Loudspeakers include the DLM8 and DLM12 full-range models and the companion DLM12S powered subwoofer.
The recommended retail list-price without tax is: 899 Euro