Finally it's here, the Moog we all have been waiting since the start of the teasing by Moog Music, a few weeks ago. According to themselves the latest member of the Phatty family will be the grittiest Moog synth ever.
Moog Music is proud to introduce the Sub Phatty analog synthesizer, a 25 full-size key, 31 knob production instrument that melds the soul and functionality of vintage analog synthesizers with new and unique sound design tools. Building on the tradition of Moog's highly successful Phatty family, the Sub Phatty grinds and screams with a uniquely aggressive voice — making it the new standard for synth bass, analog percussion, and a wide range of sound design applications.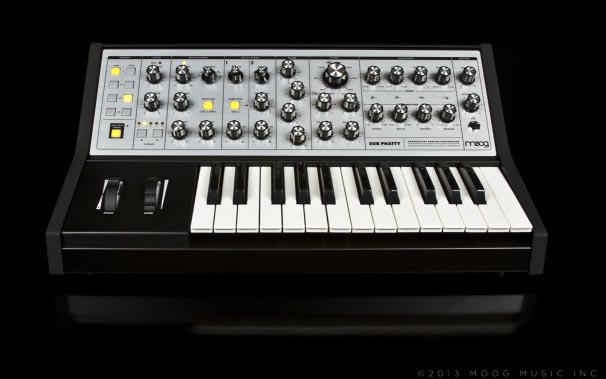 The engineers at Moog Music have reimagined the Sub Phatty's sound engine. The instrument features two variable waveshape oscillators that perform with extreme clarity and accuracy while requiring almost no warm-up time. Users can simply power up, dial in settings, and put their fingers to work on the keys to summon crisp and detailed waveforms with vibrant sound that brims with high-frequency harmonic content, yet stays true to the rich sonic density that has become synonymous with Moog synthesizers.
"We set out to design the grittiest Moog synth ever, one that still offers all of the great sound and flexibility that Moog synthesizers are known for, but that also really has teeth," said Mike Adams, President of Moog Music. "One of the great advantages of the Sub Phatty is its ability to conjure aggressive sounds that cut through a dance mix, stand out on-stage, or burn up the studio. We think that everyone from producers and sound designers to DJs and synthesists will have a blast using it."
The Sub Phatty's filter includes the transformative new Multidrive circuit, a unique combination of OTA distortion and FET drive, which serves as the sparkplug in the instrument's powerful sound. At low settings, Multidrive adds warmth and width; when pushed, it delivers a screaming snarl that is highly reactive to resonance, waveshape, and oscillator level.
Specifications
· Sound Engine: Analog
· Number of Keys: 25
· Type of Keys: Semi-Weighted
· Other Controllers: Pitch Bend, Mod Wheel
· Polyphony: Monophonic
· Sound Sources: 2 Variable Waveshape Oscillators, 1 Square Wave Sub Oscillator, 1 Noise Generator
· Oscillator Calibration Range: 22Hz-6.8KHz.Guaranteed note range at 8' of Note 18 to 116
· Mod Sources: Triangle, Square, Saw, Ramp, SH, Filter Envelope
· Mod Destinations: Pitch, Osc 2 Pitch Only, Filter, Waveshape
· Filter: Moog Ladder Filter 20Hz-20Khz
· Audio Input: 1xTS
· Audio Output: 1xTS, 1xTRS Headphone
· Presets: 4 Banks, 4 Patches Per Bank
· MIDI I/O: DIN In, Out, and MIDI over USB
· CV/Gate Inputs: Filter CV, Pitch CV, Volume CV, KB Gate
· Transposition: +/- 2 Octaves
· LFO: 0.1Hz-100Hz
UNDER THE HOOD FEATURES
· Filter Velocity Sensitivity
· Volume Velocity Sensitivity
· Ext. Audio Level
· Osc2 Beat Frequency
· VCO Gate Reset
· LFO Gate Reset
· Pitch Bend Up Amount
· Pitch Bend Down Amount
· Glide Legato
· Glide Type
· Filter Poles
· Wave Mod. Destination
· LFO KB Tracking
· LFO Range
· Filter EG Reset
· Amp EG Reset
· Legato
· Gate On/Ext.
· MIDI Ch. In
· MIDI Ch. Out
· Local Control
· 14-Bit MIDI Output
· MIDI Path In
· MIDI Path Out
· MIDI Merge DIN
· MIDI Merge USB