With Rocket Waldorf introduces a new mini synthesizer that boasts a feature set uncommon in its class. With its advanced oscillator section this small black cube can generate sharp edged leads, gargantuan basses as well as vast synthesizer soundscapes that can resound as an 8-voice chord if desired.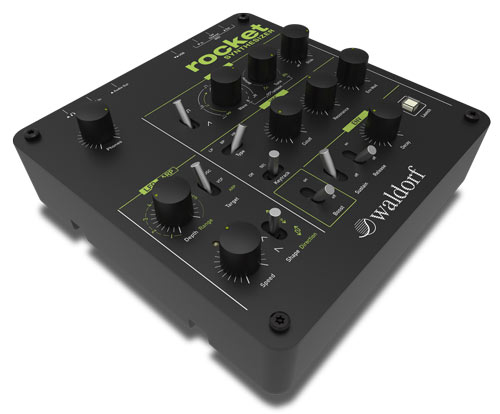 Tech specs
• Analog multimode-filter (VCF) with Low Pass / Band Pass / High Pass
• VCF-input
• Highly flexible oscillator-section with pulse width modulation and hard sync
• Up to 8 oscillators in unison for chords or Ultra High Density Sawtooth
• Low Frequency Oscillator (LFO) for modulation
• Envelopes for VCA, VCF and Sync
• Booster circuit to generate aggressive sounds
• Arpeggiator with different rhythmic patterns
• Glide
• USB powered
• MIDI in and out
• Extensive control panel with high-end pots and switches
• Control via MIDI and USB
• MIDI clock sync
• Line output
• Loud headphone output
• Launch key for easy pre listening
• Made in Germany
All sounds in this demo were created with Rocket synthesizer, except drums, samples were used here. Rocket will be available from March 2013 with a price tag of 244 Euro.