If you don't know yet, Depeche Mode is about to release a new album soon. Several websites and magazines have been reporting on it already. Some friends in Sweden (Teenage Engineering) have been talking to Christoffer Berg who did a lot of the programming for this new DM 'Delta Machine' album. Below is the interview they did with Christoffer.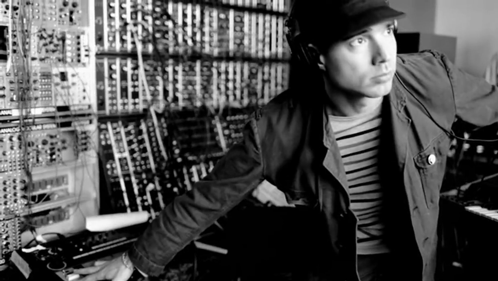 Teenage Engineering: How did you get involved in the album process?
Christoffer Berg: I got involved at the end of January 2012. I was asked if I would be interested. In February I went to London to meet Ben Hillier and Daniel Miller to listen to some demos and just meet them. In March I went to the first recording session in Santa Barbara.
TE: How come they first approached you?
CB: I think the way it happened was that Ferg Peterkin, who was the engineer on the record, was in the studio where I have a production room, Svenska Grammofon Studion in Gothenburg. He was recording an album with a band called Foals, and him and Luke Smith, who was the programmer on the previous record, had brought their modulars along.
I asked if I could have a go at the equipment and do some experiments with it. They invited me to come in whenever I wanted to, so I recorded some stuff on a mobile setup that I brought to their room. After this I was kind of invited to send a resume and submit some demos.
There was quite a substantial list of experience required to even submit a demo. You had to have expertise in several modern day sequencers and also be able to synchronize these with old analog stuff. But at the time when I started making electronic music music, I had to use sync boxes and a four track porta studio. So when I looked through the list I thought to my self "I can do this", and "if I get this job I'm gonna kill it".
TE: What was the actual position offered?
CB: It was as the programmer. My technical responsibility would be to keep different systems synchronized, and also to program beats, make sounds, basslines or whatever.
TE: So, during a days work, what equipment would you use?
CB: Oh, my god… Wow, we had a huge Eurorack modular with somewhere around 700 – 800 modules. During the recording process Martin (Gore) also got a dotcom modular, which I really fell in love with. We had ARP 2600's. Martin has a rack which has three 2600's in one rack, with custom MIDI interface for them. That was insane! One favorite of mine came to be the 'Gleeman Pentaphonic', a kind of rare early digital analog hybrid synth, which looks really cool and has a very special sound. It's almost impossible to list every thing and almost easier to list the stuff we didn't have.
TE: Where you ever intimidated by the amount of machines?
CB: Yes, definately. It was intimidating but that was also the fun part of it, because I just had to try everything, and decide what do I like, what do I not like, etc. It was a very exciting experimenting process and I was working closely with Martin. He knows all his gear very very well, because unlike a lot of synthesizer collectors he actually uses everything. It was great to have his experience and knowledge in this experimental discovery process. And the cool thing about that was I think I became more intimidated by the gear in Martin's studio, then working with the band itself.
TE: How was it to work with the band?
CB: It was great. I was really happy when they started telling stories about the good old days. I was quite happy that I'm working with them now, rather than ten, twenty years ago. You know, everyone is in a really good place and they're excited and focused on the music and not the party side of it. It was really great. We had a lot of fun together. It was just fun every day to go to the studio.
TE: The studio, there were more than one location right?
CB: Yes, we had a mobile setup that was shipped back and forth between Santa Barbara and New York City. We were in Santa Barbara Sound Design and in Jungle City Studios in New York, so for every other session we were in a different place.
TE: How long did the recording process take?
CB: For me it was roughly 140 days that I was away from Sweden, We had like three month long sessions and one six week session.
TE: Did you use the OP-1 in the studio?
CB: Yes, I did. Whit such a big production team it's very different from my own studio where I make music. I can sort of go "hm, I think I I want to use this particular synthesizer", reach for it and just plug it in and play it. But when you're a big team there might be something else going on on the main frame recording computer, and everything was organized and tucked away.
If I had an idea to record something I would first tell an assistant to bring out whatever instrument I wanted to play. That might take five minutes. Getting it powered up and in tune would take a while. Then to get a good sound could take another couple of minutes and, you know, something else might be going on, so I basically had the OP-1 at arms reach all the time.
It has ridiculus battery time, so it would always power up. And it has a speaker so you can instantly get an idea down, like a sketch pad, and start working without having to wait. It was really great to keep handy as a starting point for any sound really.
TE: Is there actual OP-1 sounds on the record somewhere?
CB: Yes, I know we did record it. I don't really remember where it is, but yeah it was recorded, and I also used it for some live stuff we recorded after the album was actually finished.
TE: What would you say is your favorite feature of the OP-1 is?
CB: My favorite thing about it probably the combination of the many hours of battery time, built in speaker and built in microphone. It's a complete thing. It doesn't need anything else to operate. It's very autonomous.
I actually have these recurring nightmares. I am on a desert island with the most amazing recording gear. And everything is powered up and ready to go, but there are no jack to jack cables! Ha, ha! It's actually a true story. And I have this feeling of frustration.
But I have the OP-1 permanently in my backpack. And it's such a comforting feeling to know that whenever and wherever I get an urge to make music I can actually do it, and I don't need anything else. I don't need headphones, I don't need power, I don't need an external keyboard, I don't nee a microphone, I don't need anything. I just need… the OP-1. And that's what really makes it very special.
TE: Cool. For the moment, what are you working on currently, and what are your plans for the future?
CB: I'm doing solo stuff and writing songs for others. I'm working with a band called
Jode
from Gothenburg, as well as quite a few projects I can't say much about yet. I'm also spending time with my family.
TE: Will you continue working with Depeche Mode?
CB: I would love to!
TE: Cool. Thanks a lot!
CB: My pleasure!
Related: Teenage Engineering OP-1 – Gearjunkies Review