At the Mix Move 2013 Reloop will present for the first time the highly anticipated reissue of the award-winning Jockey 3 ME: Reloop Jockey 3 Remix, the new Traktor controller flagship! Thanks to its powerful live control system, the Jockey 3 Remix is predestined for advanced Traktor Pro users who do not want any compromise when it comes to mashups, live remixing or spectacular effect manipulation but who are looking for a tool that perfectly supports their professional mixing skills.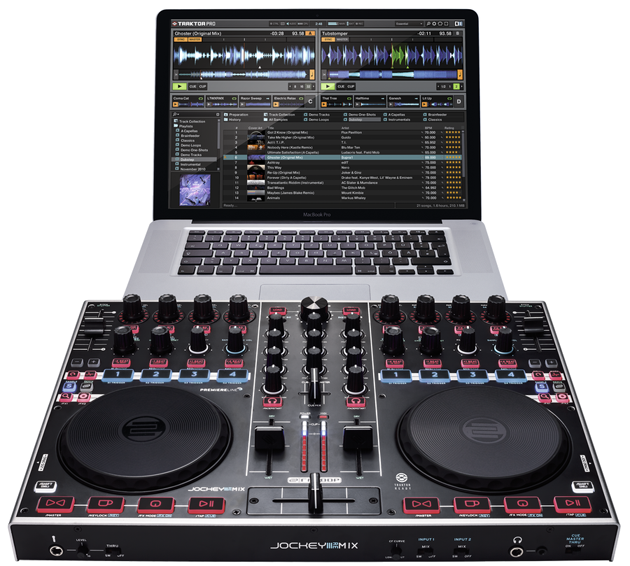 With its full metal Jockey construction the Jockey 3 Remix features high-quality processing characteristics, just as its predecessor, and thanks to the high-end 24 bit/96 kHz BurrBrown AD/DA converters it makes the all the difference regarding sound for live applications. Reloop Jockey 3 Remix, the next level 2.0 controller.
Tri-Colour LED illumination
Besides the new minimal layout and the new performance section with intelligent tri-colour LED illumination, a completely new control concept has been realized here, which disposes of 3 different mighty modes.
Track Deck Mode
In this mode you have total control over all important deck features like playback, cue/loop or effect control. And with the new dedicated beatjump buttons you can jump to an appropriate beat faster than ever before.
Sample Mode
In Sample Mode (blue illumination) it is possible to access all a sample deck's important parameters without having to switch the deck. This way you can quickly record, load or trigger samples. In the sample deck samples can be scratched, filtered and modulated. Moreover, you will always have a lock on volume control thanks to the sample.
Remix Mode
The Remix Mode (green illumination) is basically the playgound for creative mixers and will give pleasure to all effect lovers. The Jockey 3 Remix is the first controller on the market that can combine powerful effect combos with the push of a button, allowing for modulation via jog wheel, pitchfaders or linefaders. Dramatic build-ups in a track can be realized in no time. The independent Roll & Mash modes that can be used to either chop up a track or re-trigger it on-the-fly, are also brand-new.