Steinberg Media Technologies GmbH today released Nuendo 6, the latest, highly anticipated version of Steinberg's state-of-the-art production environment tailored to post and audio production studios.
"Nuendo 6 has undergone intensive development, and we are proud to make this solution available to our customers," comments Timo Wildenhain, product marketing manager at Steinberg.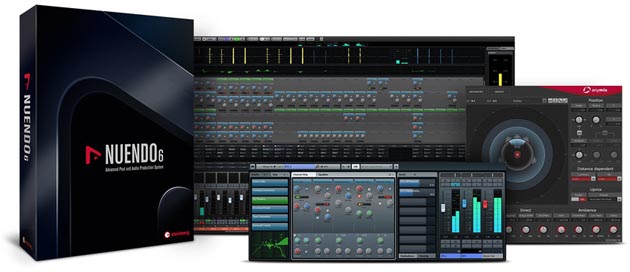 What's New?
Nuendo 6 provides new mixing facilities featuring full-screen mode and scalability, Insert View for displaying activated insert slots, plug-in and channel search and integrated Control Room. The brand-new channel strip comprises high-pass and low-pass filters, a noise gate with sidechain support, various compressors and a brickwall limiter while the overhauled Channel Settings window provides immediate access to channel parameters.
Further highlights of Nuendo 6 are the EBU R128 standard compliant loudness metering with RMS metering scales, the Loudness Lane for tracking and editing loudness efficiently and the new ADR taker system including on-screen dialog for dialog recording and language dubbing.
Prominent plug-ins are MixConvert v6 for individual downmixing, Voxengo's 64-band CurveEQ and IOSONO's Anymix Pro 1.3 for automatic EQ and loudness adjustments to surround sound signal panning and upmixing up to 8.1 surround sound.
MemZap stores and recalls zoom settings and positions within the project, VST Connect SE plug-in allows for online collaboration and the Remote Control Editor is utilized for easy mapping of effect and instrument parameters to external controllers.
Other newly implemented features include a redesigned user interface, VariAudio 2.0, ASIO-Guard with drop-out prevention algorithms, a 1.5 GB library by Pro Sound Effects and 90 minutes of free online video tutorials.
The optional Nuendo 6 Expansion Kit (NEK) comprises features that turn Nuendo into a fully fledged composing application. Included are the new Chord Track, which detects and modifies the harmony structure of MIDI and audio tracks edited in VariAudio, and Chord Assistant, newly introduced to bridge chords and generate harmonic chord progressions. The feature set is complemented by Hermode tuning for dynamic retuning in real time, 300 new instrument sounds for HALion Sonic SE as well as the Retrologue virtual-analog and Padshop granular synthesizers.
Availability and pricing
Nuendo 6 is available at authorized Yamaha resellers and through the Steinberg Online Shop. The Nuendo 6 Expansion Kit add-on is available through the Steinberg Online Shop. The suggested retail price for Nuendo 6 is 1,699 euros, including German VAT. The suggested retail price for the Nuendo 6 Expansion Kit is 249 euros, including German VAT. Various boxed and downloadable updates are also available from resellers and through the Steinberg Online Shop.
Customers who have activated Nuendo 5 since November 14, 2012, are eligible for a free, downloadable Grace Period update to the latest version. Restrictions may apply.
Nuendo 6 features at a glance
• The world's most efficient audio post-production environment, featuring industry-proven tools for TV, film, advertising, games and multimedia productions as well as full integration with the Nuage pro-audio hardware
• Groundbreaking new mixing console follows the single-window concept and includes numerous functions that speed up your workflow
• Nuendo 6 ADR taker solution for voice recording and language dubbing makes external ADR systems redundant
• Fully integrated loudness measurement, featuring EBU-compliant metering plus a large choice of RMS metering scales and a dedicated loudness lane
• Nuendo 6 channel strip upgrades your mix by offering direct access to studio-grade plug-ins
• Anymix Pro from IOSONO for state-of-the-art surround productions, highlighting the world's most flexible surround panner as well as quality upmixing algorithms
• Voxengo CurveEQ with sound-matching technology for transferring the sound characteristics from one track to another
• Redesigned user interface with lightning-fast parameter access, new channel settings window and MemZap quick-jump technology
• Steinberg ASIO-Guard with intelligent dropout-prevention algorithms for an even more reliable playback
• Remote Control Editor allows you to easily assign individual effect and instrument parameters to your hardware controller
• Pro Sound Effects post-production library with 1.5 GB of sound material from animal noises to foley to warfare sounds in 24-bit quality
Nuendo 6 Expansion Kit features at a glance
• More musical than ever thanks to the new Chord Track that helps you detecting the harmony structure of your song
• Intelligent composing assistant helps you with the creation of simple pop to complex jazz chord sequences
• Pure tuning — thanks to the Hermode technology the intonation of your synthesized notes are changed dynamically on the fly
• Create your harmonies with VariAudio 2.0 and pitch them correctly all time
• Retrologue lets you create fat and funky lead and bass sounds and offers those old-school analog synth sounds and biting sonic blocks
• Padshop boasts granular synthesis at its finest to create fantastic-sounding spheres that expand your sound universe
• Go hybrid with HALion Sonic SE and benefit from 300 pristine and rich-sounding instrument sounds
• More plug-ins: Beat Designer, LoopMash 2, Groove Agent ONE, Mystic, Spector and Monologue