Virtual instrument and plug-in developer Rob Papen is proud to announce availability of two limited-edition synth plug-in bundles, EDM Synth Bundle and Urban Synth Bundle, each comprising three carefully-chosen Rob Papen virtual instruments with combined savings of around 45%…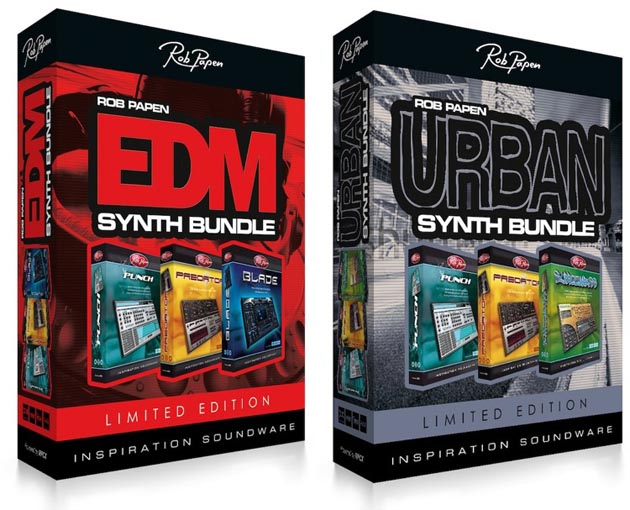 EDM Synth Bundle
The aptly-named EDM Synth Bundle is a highly-flexible, Herculean offering, with masses of diverse sounds for EDM (electronic dance music) producers and DJs alike. As such, it comprises Predator — a 'phat'- sounding killer soft synth that combines inspiring presets and first-class features to create the perfect 'go-to' synth for contemporary music production; Punch — a speaker-rattling, body-shaking software instrument that delivers synthesized drums in the finest audio quality with breathtaking features for the contemporary music producer; and Blade — a cutting-edge additive synthesis powerhouse with a human touch that all adds up to an amazingly flexible and useful virtual instrument with an able arpeggiator and an array of pitch, modulation, and effects parameters.
Urban Synth Bundle
Likewise, Urban Synth Bundle has been especially created to cater to the thumping needs of urban music producers of dubstep, drum and bass, garage, and grime genres where bass is the place. This time, the perfect Predator and Punch pairing join musical forces with SubBoomBass, a dedicated virtual bass synth filled to the brim with excessive amounts of low-end ammunition to detonate tracks to the dance floor and beyond! Unsurprisingly, Urban Synth Bundle will also seamlessly fit the workflows of those creating hip-hop, rap, and R&B tracks.
So why not take advantage of this opportunity to save some money and add some superb-sounding Rob Papen virtual instruments to your EDM or urban music productions to raise their game? From big, warm, powerful, and funky to rugged, spangly, soaring, and tearing, those award-winning virtual instruments will well and truly have you covered. But best be quick… the limited-edition bundles will soon sell out!
Limited quantities of EDM Synth Bundle and Urban Synth Bundle serial downloads are available to purchase online from authorised Rob Papen dealers worldwide for €199.00 EUR/$239.00 USD/£169.00 GBP each. Alternatively, they can be purchased online directly from Rob Papen from here: www.robpapen.com