That the Polish producer Tomasz Twardowski knows his gear is evident from listening to his latest 12″, A Soundtrack To Growing Up EP. Everything is in the right place. The dance floor not set on fire by the sound, feel, groove and character of his neo-disco boogie is not worth its name.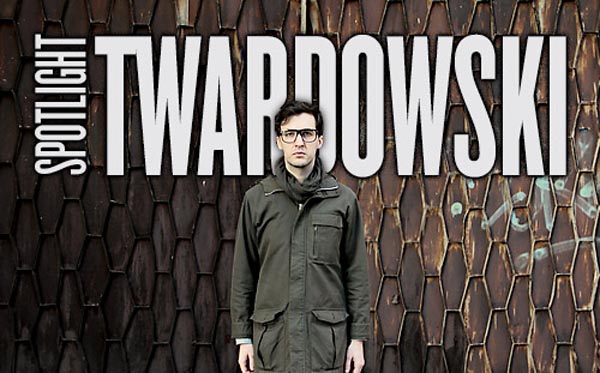 What does your set up consist of and how do you use it?
I guess I'm equal parts a musician and a synth collector, so there's quite a bit of gear in my man-boy room: for drums: a Korg DDM-110, Roland TR-727, Korg DDD-1 and a Vermona DRM1 mk3; keys: Roland SH-101, a modded Korg Poly800, Roland D-20, Yamaha CS1x, Yamaha CS-5, Microkorg XL, Novation X-station and Bass station and a Nord Electro mk 3. Plus a Korg Electribe SX, Yamaha TX81Z, Yamaha DX-200, a Moog Etherwave (don't ask…), an MFB Synth 2 and a MPD32 together a Doepfer Darktime to control it.
Recently I acquired an Analog Four and an OP-1 and I'm still trying to wrap my head around them. Actually, there's a certain logic to this collection (or at least I hope there is…): seems to me everyone's after the same classic synths and the same presets and eventually most of the music is based on similar soundsets. I try to avoid that by getting the underdog synths that lie somewhere between serious and cheesy 80s sound and then supplement them with the modern stuff.
Of course not everything is plugged in at one time, there's always the matter of choosing the right tool for the job, but the Octatrack is always the centerpiece. I love how it combines instant sampling and sound mangling with TB/X0X-style sequencing. Basically every track I do is made from the ground up on the OT: usually I start with sampling some old records to establish a groove. Then I cover it up with sounds from my synths up to the point where the original sample is no longer needed. Then I put some more patterns together, usually reintroducing some of the samples along the way (vocal snippets!). At this stage the Octatrack handles sequencing and the feature I use and abuse is micro-timing to humanize the track. This stage of production is all about deciding what goes in the Octatrack as a sample and what stays as MIDI data. When I run out of audio and MIDI tracks on the Octatrack, I set the crossfader effects and slap it together in song mode. The end result gets live-recorded into a DAW for final touchups and it's done!
Your productions are incredibly warm and full. How do you obtain your sound?
Lo-fi, warmth and this muddy, mushy sound was always my thing. Coming from a hip-hop background I'll always cherish the techniques from the genre's golden Era (12-bit sound, sampling 12″s at a higher speed and pitching down on the sampler) so it kinda comes naturally as it's something I always enjoyed. Some of the instruments I have are downright murky on their own, others usually get the VHS saturation treatment: you get a decent 4-head VHS and a well-worn cassette, record the audio on it and play it back to the sampler/DAW. Some fiddling with the input level is required, but it's a very effective way to get cheapo tape saturation and in result you get warm sound with a nice lo-fi vintage feel to it. It's definitely opposed to the clinical coldness and sonic selectivity you get in most contemporary tracks.
Do you have a certain work ethic, or do you create music when inspiration strikes?
I've got a gazillion ideas in my head and little time to put them together because of my crazy and time consuming day job. So the closest thing to a work ethic I'll ever have is a pen and pad. Over the past year I've managed to fill two moleskines with ideas, pattern layouts, drum matrices, chord progressions and titles for tracks and records. So whenever I have some time to spare, I fetch one of the pads, fire up my gear and… wind up making something totally different because every good idea has evolved along the way.
What are your plans for the nearest future?
To release a new EP in June, put a live act together, start a company, make my own synth, play less video games, have kids. In no particular order and timeframe, except for the EP release.
Visit Twardowski on Facebook. A Soundtrack to Growing Up EP is available digitally on Bandcamp and on vinyl from HHV. The next Twardowski EP will be released by U Know Me.