IK Multimedia proudly announce new modules in the T-RackS Custom Shop: Bus Compressor, White Channel, Tape Echo plus a re-skin of the popular British Channel. Stay tuned as other new gear make their way to the Custom Shop.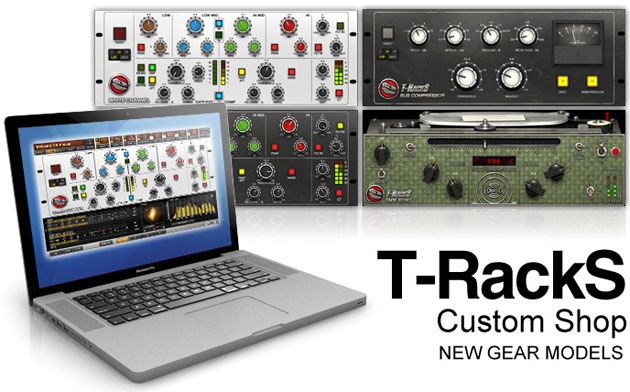 New Modules Custom Shop
These new essential sound processors are available either as single plug-ins or integrated within the T-RackS plug-in and standalone software suite of effects. They can be easily tried out and purchased by any user of the T-RackS Free, Classic, Deluxe and Grand editions, using T-RackS' exclusive Custom Shop feature. The Custom Shop is an online-based virtual store that's integrated inside T-RackS, and offers users the possibility to build a customized mixing and mastering suite with their preferred virtual gear, trying and buying the modules a-la-carte via a convenient credit-based system.
What's New?
The Bus Compressor models the master-bus compressor on one of the world's most famous mixing consoles, which was nicknamed the "Glue Compressor," for its ability to subtly "glue" a mix together.
The White Channel offers an ultra-accurate emulation of the dynamics and EQ sections of another renowned desk from the same manufacturer — this one known for its wide bandwidth and pristine sound.
The Tape Echo is a spot-on emulation of one of the classic tape echo units of all time. To go along with its cool vintage sound, we added some great modern features, like stereo operation, separate delay times on L&R, and syncing to host tempo.
The British Channel was modeled after one of the most widely used and acknowledged pieces of hardware in the music history and now it features a sleek new look that makes navigating its controls even easier.
Pricing and Availability
The new T-RackS Processors are available for purchase now in the T-RackS Custom shop, using Custom Shop gear credits, with prices ranging from 60 to 120 credits each. Gear Credit Packs start as low as $19.99 / €15.99 (for 20 credits) and go up incrementally to $499.99/€399.99 (for 1,000 credits).
To access the new processors, existing T-RackS users should download the free upgrade to T-RackS from their user area before launching the Custom Shop.
New users download T-Racks Custom Shop for Free!