Mackie announces a powerful new control app for the popular DL1608 and new DL806 Digital Live Sound Mixers – My Fader – is now available as a free download. Based on the acclaimed user interface and workflow of the Master Fader iPad control app, My Fader provides the perfect set of features for on-stage performers controlling their own monitor mix. My Fader is also great for the FOH engineer who needs a handy tool that allows pocketable wireless control from anywhere in the venue.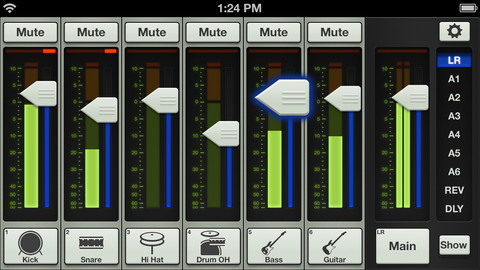 "Technology is nothing short of amazing," commented Ben Olswang, Mackie Product Manager. "With a DL mixer, My Fader app and an iPhone, you've got a powerful digital mixer in hand that you can control from anywhere. This was not even a dream just a few years ago and now we've brought this power to a price point attainable by more users than ever possible before."
My Fader allows control of DL Series mixers via Wi-Fi from a modern iPhone or iPod touch. Version 1.0 features touch-friendly control over multiple input channels at once and an output selector for quick access to any mix. The addition of channel muting, detailed channel ID and metering and the inclusion of a master fader provide unmatched control for an iPhone mixer application. Plus, an access control feature can limit users to only control their assigned aux, keeping them away from other outputs. This is great for simple on-stage control of monitor mixes. Also unique is the ability to recall from any snapshots from the current show on the DL mixer. This is great for bands controlling the whole mix from the stage. With My Fader, DL mixer users benefit from the full power of a digital mixer with an easy-to-use application that fits right in their hand.
My Fader v1.0 is now available as a free download directly to your iPhone or iPod touch from the App Store.