When thinking of the 'Digital DJ' you quickly think of the DJ with a two or fourdeck controller witrh your typical Traktor or Serato software, probably. You would almost forget about products like the Novation Dicer. A small little device that integrates the 'analogue' with the 'digital'. Even in this 'digital dj era' where innovations follow eachother by month almost, devices like the Dicer are still valid and used by many DJ's. DJ Miaer shows that to us with a cool video showing off his DJ skills and using the Novation Dicers.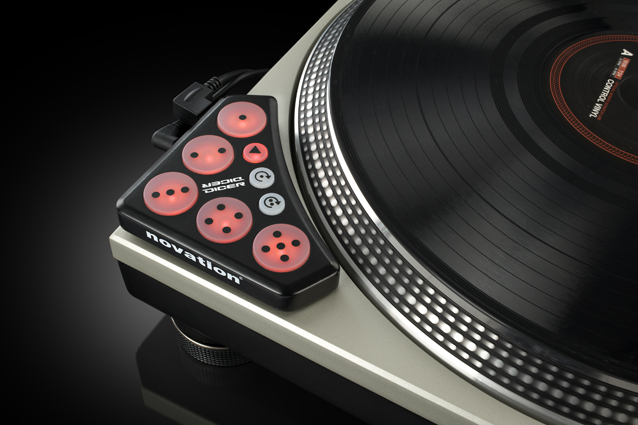 Novation's Dicer is an ultra-compact cue point and looping controller for Digital DJs that fits directly onto the turntable, CDJ, mixer or laptop. It has been designed with Serato to integrate into their 'Scratch Live' Digital Vinyl System. However, it also works with Native Instruments' Traktor Sctratch Pro. You can assign the pads to any MIDI function, from triggering effects to browsing your itunes library!
Although Dicer has been designed to integrate with Serato, it also works with other DJ software. Setup files for Traktor Scratch and Traktor Scratch Pro are available online at www.novationmusic.com. These files assign Dicer's controls to various functions, including Cueing, Play/Stop, Looping, FX and browsing. For other DJ Software, you can use the software's own MIDI mapping function. A pair of Dicers give you a total of 60 MIDI controls.