Pioneer's popular WeGO and ERGO controllers are now even more portable, with the release of the WeCAi cable – allowing DJs to use the WeGO/ERGO's tactile controls to mix and mash up tracks on their iPads. The WeCAi cable lets aspiring DJs connect to Algoriddim's djay app to access music direct from their iTunes library, or get to grips with video mixing using Algorridim's vjay app.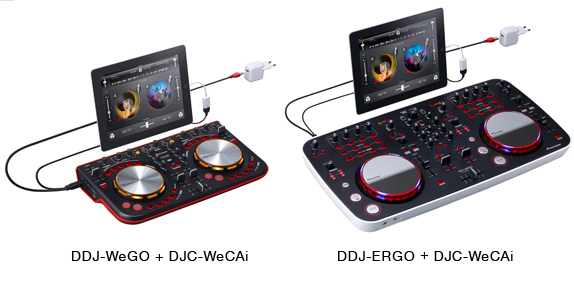 HIGHLIGHTS OF THE DJC-WeCAi
Intuitive control of Algoriddim's djay and vjay apps for iPad
DJs simply use the WeCAi cable to connect the WeGO/ERGO to an iPadi running Algoriddim's djay app, and get hands on with mixing, scratching, Hot Cues, loops, samples and effects. Or connect to Algoriddim's vjay app to enjoy mixing and scratching video, music and pictures stored on the iPad.
USB power supply for WeGO/ERGO
The WeCAi includes a USB connection for supplying power to the WeGO/ERGO via a standard USB power adaptor or a USB mobile battery so DJs can play out even where traditional power sources cannot reach.
Enjoy all the WeGO/ERGO features including Pulse Control
As well as intuitive DJ controls and innovative effects, both the WeGO and ERGO boast Pulse Control lights, which add a visual element to performance by showing when tracks are loaded, which effects are engaged and more.
The WeCAi cable will be available from May at an SRP of EUR 29/GBP 20, including VAT.