Fireface UCX, Babyface and Fireface UFX are not only three of the most popular interfaces in RME's line of USB solutions – they also feature a special mode making them compatible to the world's most popular tablet – the iPadTM. While these devices gave the iPad all the missing professional I/Os that it lacks, the usage of the units' TotalMix FX was either impossible or cumbersome.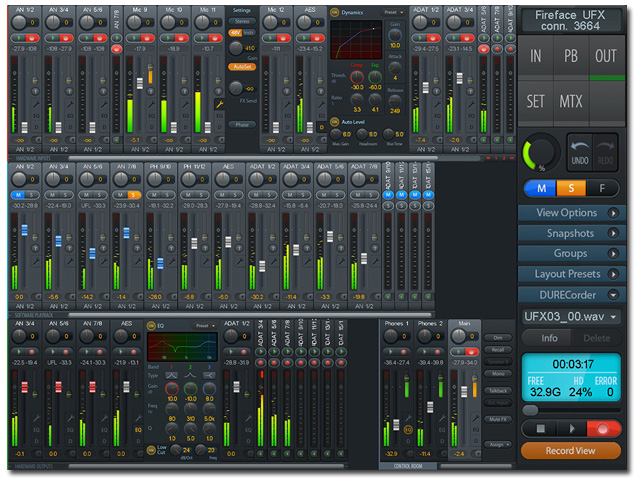 iPad Control
TotalMix FX for iPad now adds full control over hardware mixer and DSP effects for Fireface UFX, UCX and Babyface when in Class Compliant mode, and lets users create, store and load complete mixes directly from the iPad. Additionally hardware controls like phantom power for microphone inputs, mic/line/instrument switching and sample rate are supported.
TotalMix FX has been ported to the iPad carefully to be used safely while maintaining the tablet's feel and way of use. Landscape and portrait view, two zoom levels for detail view and overview, horizontal and vertical scrolling via swipe gestures, newly designed Retina graphics and much more make it both a breeze and joy to use.
TotalMix FX does not interfere with other apps performing a recording or playback. The user can always switch to TotalMix FX to adjust a monitor mix, gains, or effects such as equalizer, compressor, reverb and echo. Record and playback will continue in the background.
TotalMix for iPad will be available for purchase from the Apple App Store in summer 2013.