Allen Morgan's Signature Drums pump energy into your Groove Agent ONE drum library — with a range of excellently produced drum sounds for your beat productions. Faithfully recorded and elaborately pre-processed by LA-based producer Allen Morgan, all sounds are laid out as ready-to-use drum kits and include one-shot drum and effect samples.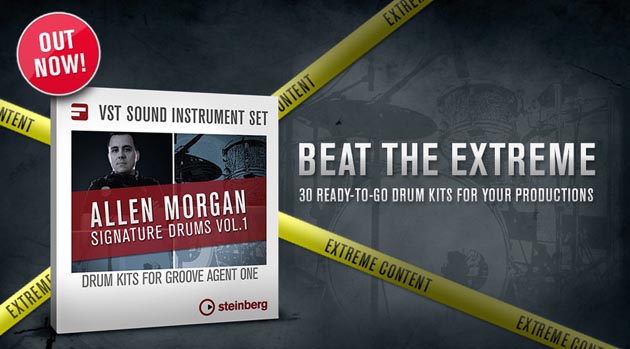 "Allen Morgan has done a great job: the samples are top notch, the loops groove and it's all conveniently arranged in 30 drum kits," remarked Matthias Quellmann, product marketing manager at Steinberg.
Acoustic and Electronic Drum Sounds
Covering acoustic and electronic drum sounds while spanning a large variety of styles, the Allen Morgan Signature Drums Vol. 1 expansion pack consists of more than 900 drum sounds and effects that were recorded and processed by engineer and producer Allen Morgan, known for his work with Taylor Swift and Nine Inch Nails. The additional 150 MIDI loops provide five rhythmical patterns for each of the 30 drum kits.
This signature set adds to the library of Groove Agent ONE, included in Cubase 7, Cubase Artist 7, Cubase 6, Cubase Artist 6, Cubase Elements 6, Cubase 5, Cubase Studio 5, Sequel 3 and Nuendo 5 NEK.
Availability and pricing
The Allen Morgan Signature Drums Vol. 1 expansion pack is available as download through the Steinberg Online Store for 29.99 euros including German VAT.
Features at a glance
• Over 900 pre-processed samples (drums and effects)
• 30 conveniently laid-out drum kits
• 150 MIDI loops with beats and grooves
• Exclusively available as download
• Windows and Mac installer included