The guys at Studio Electronics have posted another demo video of the Boomstar SEM synth. It shows the Boomstar SEM Production Unit Demo in Quadraphoria. Music and programming by Drew Neumann. Live tweaking by Drew Neumann and Marc St. Regis.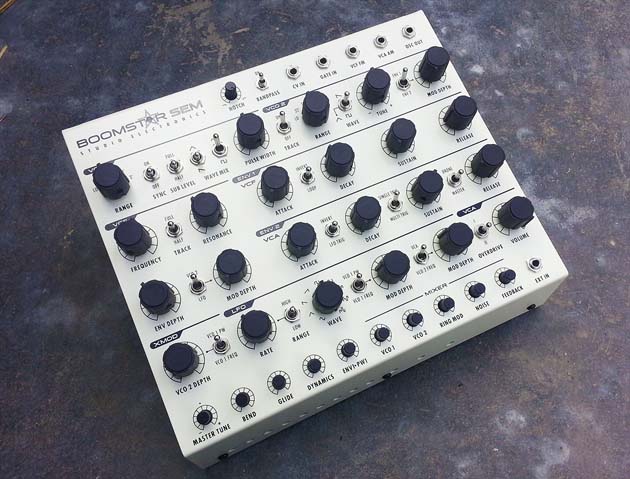 TRUE HYPE
Back to the raw power and purity of non-programmable discrete analog––where STUDIO ELECTRONICS started in 1985. The snap and punch of hardware envelopes drive the BOOMSTAR's brilliant voltage controlled circuits with unparalleled sonic integrity and versatility. BOOMSTAR is the ultimate desktop analog synthesizer for those who remember and desire still, the electronic Analog sound that changed the world and for seekers who have yet to discover that magic and delight… in their time.
Four Models/Filter types: 4075-classic Arp 2600, 5089-classic Moog 24db ladder, SEM-classic Oberheim 12db, 303-classic Roland TB.
This All-American-Made music machine's discrete voltage controlled analog oscillators, hand matched transistors in its filters and amplifiers and STUDIO ELECTRONICS' typically expressive hardware programming features, fully realizes its name, with its earthy, grounded subs to its deep field sonic shimmers: BOOMSTAR!