Yamaha introduces the MGP32X and MGP24X analog consoles; the latest addition to the ground-breaking MGP Series that created a new paradigm for compact mixers combining analogue authenticity with comprehensive digital capabilities. The new consoles offer expanded mixing capability with more channels and three new digital features; USB device recording and playback, Graphic EQ and a multi-band compressor.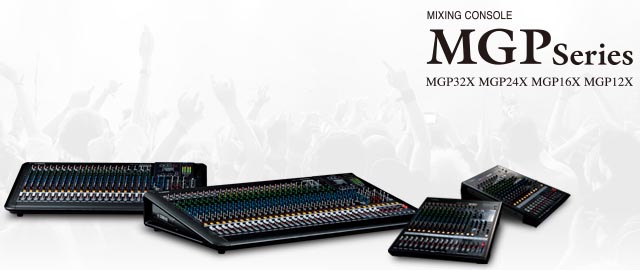 MGP Series
MGP Series consoles feature newly developed discrete Class-A D-PRE mic preamps. These studio-grade preamps employ an inverted Darlington circuit design that features multiple circuitry elements in order to deliver more power with lower impedance. With 48V phantom power and stunning high-resolution sound, D-PRE mic preamps meet even the highest demands of professional use.
The MGP32X and MGP24X feature new 31-band GEQ on the STEREO bus. The 14-band GEQ and Flex9 GEQ modes allow for concise, detailed EQ-ing for more demanding or professional applications.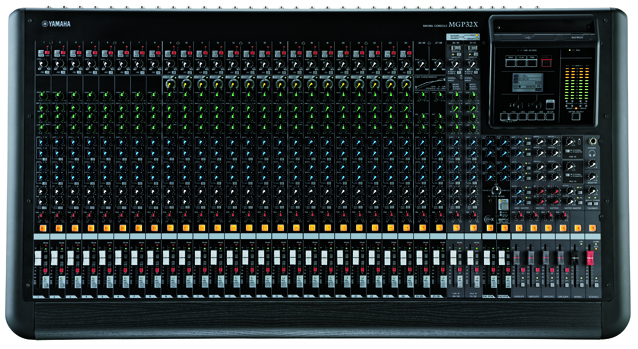 These two new MGP consoles have two master compressors: Comp and Multiband. Comp is a conventional style single band, while the Multi-band separates the audio into 3 bands for more subtle dynamic control. Assigned to the stereo bus, there are 3
preset programs installed, with up to 5 user programs available.
MGP32X and MGP24X come equipped with two USB ports to support a wider range of device connectivity. One dedicated to USB device recording and playback and the other for iPod/iPhone connection. An updated version of MGP Editor is also available for free download from the iTunes Store℠, allowing control of effects, Hybrid channel, Graphic EQ and Master Compressor.
Kazunori Kobayashi, General Manager of Yamaha's Pro Audio Division had this to say about these two new consoles:"The MGP12X and MGP16X have been well-received for small portable PA and installed sound applications around the globe. With more input and output capability and useful features for live sound, the new consoles can meet the demands of a wider range of users."
The new MGP Series will be available Spring 2013.