Arturia is proud to announce availability of Oberheim SEM V 1.1.6 and Wurlitzer-V 1.0.5, the latest updates to its software recreations of the classic Oberheim Synthesizer Expander Module and Wurlitzer EP 200A electric piano.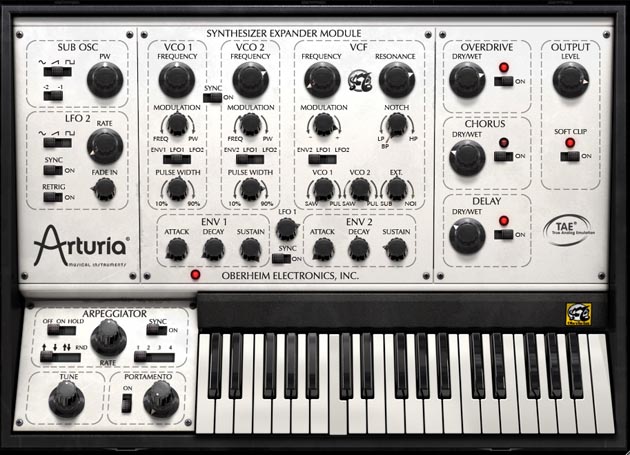 Analog Classics
These free updates bring performance, stability, and MIDI improvements to two of Arturia's most popular Analog Classics, the Oberheim SEM V and Wurlitzer-V, respectively released to critical acclaim in 2011 and 2012. The best just got a whole lot better!
Using Arturia's TAE® (True Analog Emulation) technology, Oberheim SEM V faithfully reproduces the analogue warmth and ingenious interface of the classic Oberheim Synthesizer Expander Module® (SEM) to which it owes its inspiration and name. Created by legendary synth designer Tom Oberheim back in 1974, the dual-oscillator SEM was originally conceived as a way of beefing up weaker-sounding compatible analogue monosynths of the time before becoming a sought-after sound in its own right — so much so that its American creator came up with a series of successive SEM-based instruments, first pairing up two SEMs with a 37-note keyboard and a simple analogue sequencer to form the Two Voice, Oberheim's first compact, programmable, polyphonic synthesizer in 1975, followed by the larger Four Voice (featuring four SEMs) in 1976 and enormous Eight Voice (eight SEMs) in 1977. Though these instruments were groundbreaking, polyphony was achieved with multiple SEMs so each voice/module had to be programmed independently, which was quite a daunting task — even by somewhat shaky Seventies standards!
But that was then, this is now. Today, Arturia's eight-voice, MIDI-controllable, multitimbral Oberheim SEM V software solution brings many more truly 21st Century developments to the table — or even desktop (or laptop)! Additional ARPEGGIATOR, PORTAMENTO, SUB OSC, LFO 2, OVERDRIVE, CHORUS, and DELAY parameters, plus an in-depth Modulation Matrix module, all combine to considerably widen its sonic palette and appeal above and beyond merely mirroring the original Oberheim SEM hardware. Oberheim SEM V valiantly does that, too, of course — right down to replicating the behaviour of Oberheim's original multi-SEM synths' specific voice assignment and triggering, thanks to its advanced 'fold-out' 8-Voice Programmer, for example.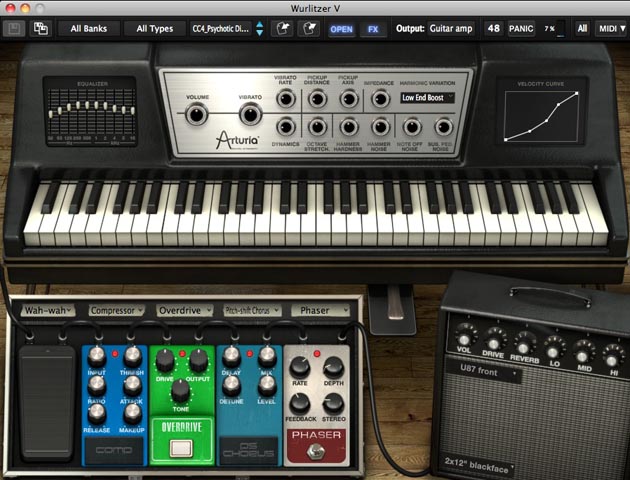 Arturia has taken a different approach with Wurlitzer-V, however. Unlike traditional sampling libraries, its embedded physical modelling engine readily reproduces the agreeable acoustic properties of the well-known Wurlitzer EP 200A electric piano's musically distinctive reeds, key action, and amplification characteristics by 'constructing' played notes in real time. In doing so, it realistically recreates a staple sound of the Seventies in a cost-effective performance package fit for 21st Century compositions.
Yet those beloved bright and overdriven 'Wurly' sounds so ingrained in popular music culture thanks to artists as musically diverse as The Beatles, Supertramp, and Marvin Gaye are as much down to a creative combination of admirable amplification, mic placement par excellence, and precision processing, with multiple analogue chorus, phasing, and tape echo units often being used to fashion a deeper, luscious tone. Which is exactly why Wurlitzer-V effectively places its users in an authentic-sounding Seventies-style recording studio, complete with classic tube amp emulations, modelled mics, and stompboxes galore — everything needed to achieve that vintage vibe, in fact. But that's not all. Alongside additional in-depth performance parameter controls, Wurlitzer-V also lets users choose between three output modes — Studio, Stage, and Rotary, each with a distinctly different sound.
Anyone wishing to transport those tricky still-sought-after sounds of the Seventies screaming and kicking into the convenience of present- day DAW-based workflow simply owe it to themselves to check out Oberheim SEM V 1.1.6 and Wurlitzer-V 1.0.5 — now better than ever, thanks to those latest updates!
Oberheim SEM V and Wurlitzer-V can each be bought from the Arturia online store as software downloads for €99.00 EUR/$99.00 USD or as boxed versions for €119.00 EUR/$129.00 USD.
Existing Oberheim SEM V and Wurlitzer-V users can download the latest updates for free from here.