Harrison is proud to announce the availability of the v2.3 update for Mixbus. This update adds numerous improvements – a faster routing setup, enhanced keyboard layout, and a more refined editing workflow – and resolves multiple user-reported issues.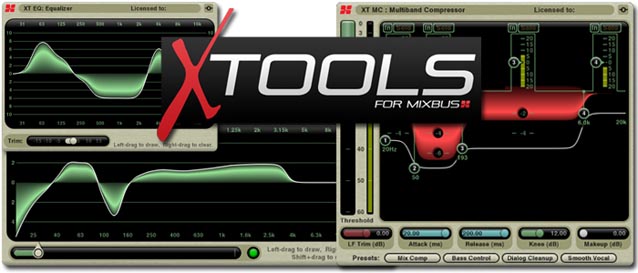 XTools for Mixbus (DAW)
This release also marks the introduction of Harrison's new series of plug-ins – XTools for Mixbus – that are derived from the company's digital console software. The first three plug-ins are the XT-ME Mastering Equalizer, XT-MC Multi-Band Compressor, and the XT-EQ Equalizer. All three plug-ins are now available at the Harrison Mixbus store, and can be purchased at a special introductory price.
The XT-ME Mastering EQ features a revolutionary filter shape that was originally designed for precision speaker management. Unlike a conventional EQ, when 2 or more adjacent bands are adjusted, the shape is "flat" across the top. This avoids the "comb filter" shape of a typical multiband EQ.
The XT-EQ contains all of the sound of the XT-ME Mastering Equalizer in a smaller footprint.
The XT-MC Multi-Band Compressor is equipped to enhance or repair tracks in a mix. It uses a precision algorithm with phase-correct crossovers, adjustable hard/soft control, and intelligent attack/release times to perform delicate tweaking or major surgery without artifacts.
These new plug-ins are compatible with Mixbus v2.3. Current customers will receive a link to download the program update via e-mail. For detailed information on refinements, including corresponding version history, please visit the Mixbus website.