The good things in life are always worth waiting for and after months of anticipation the first Lyra audio interfaces are now shipping. After months of waiting Prismsound are proud to announce the release of our latest additions to the Prism Sound family: Lyra 1 & 2.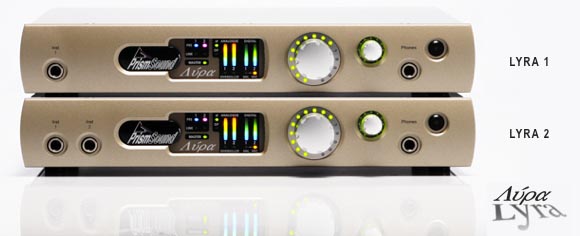 Lyra 1 and Lyra 2
Lyra represents a new chapter in small format audio interfaces. ow you can use the same Prism Sound technology as the world's leading artists, performers and studios such as Abbey Road Studios, Deadmau5 and the Beatles as well as powered the music scores for blockbuster soundtracks from Lord Of The Rings to Halo 4!
Lyra, which made its debut at the 2012 AES Convention in San Francisco, brings to an even wider audience Prism Sound's high performance audio converter technology. This technology is used in the world's leading recording facilities by recording artists and for blockbuster movie soundtracks such as Harry Potter, Lord of the Rings and The Hobbit. Based on the award-winning and critically acclaimed Orpheus interface, Lyra allows music recording professionals to access the power and sophistication of the Orpheus audio path and clock circuitry, but in a smaller package and at a much more affordable price point.
Lyra 1, which retails in the UK at £1,349 plus VAT, will be of particular interest to the musician and project studio market. This unit offers two analogue input channels – one for instrument/line and one for mic/line – plus two DA output channels and optical-only digital I/O. With Lyra 1, musicians can connect a guitar and a microphone through the input channels, plug into their software mixer via a simple USB connection and start laying down basic tracks in a matter of minutes.
Lyra 2, which retails in the UK at £1,849 plus VAT, takes the concept a little further by offering two AD input channels with switchable microphone, instrument or line input modes and four DA output channels. Both optical-only digital I/O and copper S/PDIF are available on this version of Lyra, which also offers wordclock In/Out enabling synchronization with other digital devices.
Both products are ergonomically designed to look as good as they sound. The front panel has a master volume control assignable to selected output channels, while the unit's small size – just 285mm (11.22″) wide – makes it very easy to transport for musicians, producers and DJs on the road. For studio use, Prism Sound can supply dedicated rack mounts as an extra.