With the incredible success of their computer based versions of Neo-Soul Keys, Gospel-Musicians.com felt it an obvious decision to bring the incredible electric piano libraries to the iOS. Despite the eagerness, they did not want to produce a sub-par app just for sake of making an electric piano library, so they worked directly with Apple's engineers to bring to you, for the first time ever: SAMPLE STREAMING USING APPLE LOSSLESS CAF FORMAT. No other app that we know of offers real-time zone switching sample streaming with lossless compression.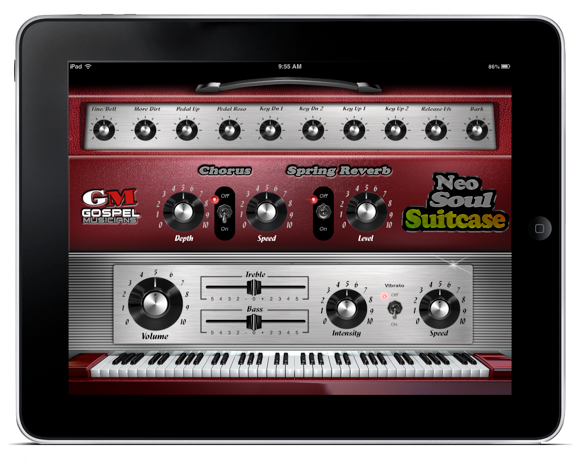 Many other sample library apps offer the samples to be loaded into memory, which obviously severely cripples the detail and amount of samples you are able to use. With sample streaming, we are able to use the same high quality sampling techniques, zone switching, and velocity layering, without sacrificing the quality similar to a desktop sample library. So what we did was load all of the electric piano effects samples in system memory, and dedicated the most important sustain samples to stream from the internal flash RAM. The results make for a high quality, low latency, and professional grade electric piano sound module that you can take with you and play live!
What's New in Version 1.2
This version has a number of important new features as well as some small bug fixes.
New Features:
– Audiobus support
– MIDI channels filter for each synth
– Virtual MIDI support
– Latency can be adjusted for each synth
– Option to enable or disable background audio
– The samples for the stage synth have been improved
– Improved realism of release decay
– In-App purchases can now be made without leaving the synth
– Option to disable mechanical effects to reduce CPU load
– New mechanical release equation to decay over time like a real electromechanical EP does.
– New Barks in phase with Sustain to eliminate phasing.
Neo-Soul Keys version 1.2 is available in the Apple App store now.