Sample Magic is proud to announce the release of its new 'Magic AB' referencing plugin, a simple, powerful reference tool that allows the producer to switch between the audio they are working on in their DAW and up to nine reference tracks in an instant.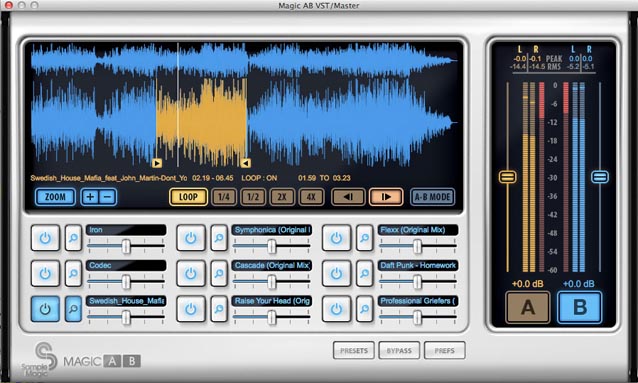 Reference Plugin
With A/B referencing playing an essential part in the production, mixing and mastering process, Magic AB offers an infinitely faster, easier and more accurate method to compare multiple audio streams to those available in any DAW or audio editor.
A uniquely powerful utility to aid and speed the mixing and mastering process, Magic AB's controls and ergonomically-designed GUI can be learned in two minutes, and will lead to a lifetime of better mixes.
With Magic AB, producers can:
– Effortlessly shape mixes: Love the sound of a commercial track? Fire up Magic AB and shape your own sound ever closer to what you want.
– Compare multiple mixes quickly and simply: create and save your own 'go-to' playlists to radically speed up mixing and mastering.
– Hone in on the details: play/cue the reference track from the precise point you want to hear and loop the section you want to focus on – there's no need for tiresome rewinding and endless internal waveform navigation.
– Balance the relative volume of mixes: with extensive, accurate, easy-to-read metering – particularly useful for critical mastering sessions.
– Give your ears a chance to recalibrate: with manually changeable crossfade times.
Magic AB is available as an instant download in AU, VST (32- and 64-bit), RTAS and AAX formats for Mac OS and Windows at www.samplemagic.com. It retails at £24.90 with a launch price of £19.90.