Next to the SPL Twintube and Sonnox Oxford Inflator Plug-Ins Universal Audio is also pleased to announce the release of the groundbreaking Ocean Way Studios Plug-In for the UAD Powered Plug-Ins platform. Developed over a three-year period by UA and Allen Sides, Ocean Way Studios is an audio processing breakthrough — combining elements of room, microphone, and source modeling so tracks sound as if they were recorded in the legendary studios of Ocean Way Recording.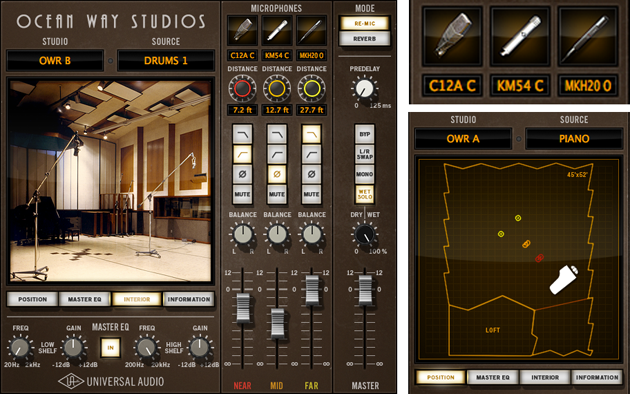 Dynamic Room Modeling
Built upon UA's proprietary new Dynamic Room Modeling, Ocean Way Studios provides the unique ambience and dispersion properties of various sources in the rooms at Ocean Way, as recorded through a selection of rare vintage microphones that can be dynamically positioned in real time via a simple click-and-drag interface. Ideal mic selections and placements are provided in both Ocean Way Recording's "Studio A" and "Studio B " — the exact rooms and setups used to record some of the biggest acts of all time.
"Ocean Way Studios is one of the most ambitious projects in UA history," explains Bill Putnam, Jr., UA founder and CEO. "We're going far beyond previous convolution technologies to provide the complex interactions between room, source, and microphones — the things that make the acoustics at studios like Ocean Way Recording so special."
The beautifully balanced, performance-inspiring rooms of Ocean Way Recording have shaped the sound of countless classic records, from Frank Sinatra and Ray Charles to Michael Jackson and Radiohead. The man at the helm of Ocean Way Recording for more than two decades, Allen Sides, provided guidance, sonic tuning, and access to his $250,000 collection of vintage microphones throughout the Ocean Way Studios design process.
"The Ocean Way Studios plug-in comes as close to pulling up a set of my favorite mics at Ocean Way as I could imagine," said Allen Sides. "The speed at which I can use this in a mixing configuration is ridiculous, and the results are stunning."
The new Ocean Way Studios Plug-In is now available on the UAD Powered Plug-Ins Platform for $349US via UA's Online Store as part of UAD Software v7.0. — which also includes the SPL Twintube and Sonnox Inflator Plug-Ins.
Ocean Way Studios Plug-In Features Include
Breakthrough acoustic emulations of Ocean Way Recording's legendary Studio A and Studio
Dynamic Room Modeling combines room, microphone, and source models for unprecedented realism
Incorporates sonic profiles of vintage microphones from Allen Side's world-renowned collection
Includes mic bleed and mic proximity effects for stunning accuracy
Choose from eight instrument / vocal source types with unique dispersion patterns
Position and blend between three vintage mic pairs (Near / Mid / Far) in real time
Use in "Reverb" mode, mixing wet and dry signal; or "Re-Mic" mode, replacing your original room and mic sounds altogether
Preset mic selections, placements and creative direction by Ocean Way's Allen Sides