UVI introduces UVI UltraMini, a hybrid instrument that includes two fully independent instruments with uniquely skinned GUIs – inspired by the Minimoog D 1971 and the Minimoog Voyager XL 2011 (Limited Edition).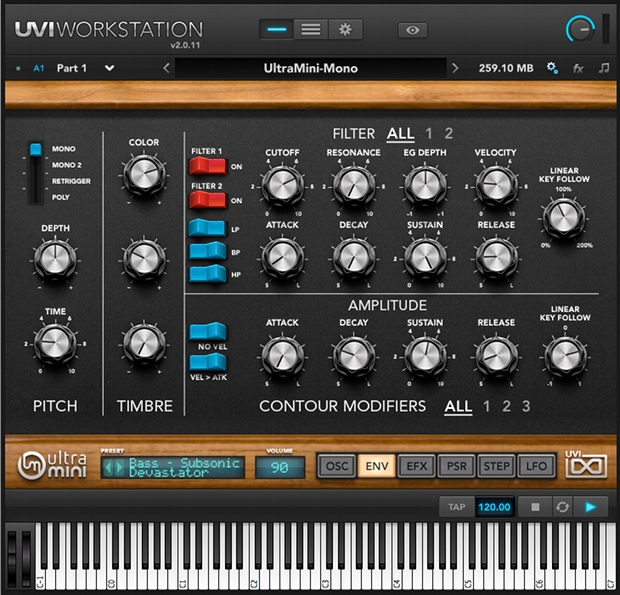 Moog MiniMoog
The Minimoog was made available to the public in 1971 and continued to be produced with very little change over the next 10 years. Considered the most popular synth ever by some, there's no doubt the instrument has led a prolific life, leaving a massive wake in its path – changing perceptions and influencing synthesizer design to this day. The Minimoog has a near-perfect balance of simplicity and sonic beauty.
One of UVI's specialties is making hybrid instruments. High fidelity sample-based waveforms produced by real circuits; in real machines give the instrument a pure sound from the start. Then accurately modeled filters and effects are used on the backend to shape and control the sound, spending precious CPU cycles only where they're needed. For this approach to work, you need to build an amazing library of sounds and marry them to a truly advanced DSP engine. This is exactly what UVI have done for UltraMini thanks to hundreds of man-hours of tedious multisampling and the award-winning UVI Engine™.
Main Features
3-oscillator configuration, amplitude and filter key follow, unrestricted polyphony, mono retrigger, per-oscillator amplitude, stereo, color and drive control, a built in bit crusher, phaser, delay, limiter and our advanced algorithmic reverb – SparkVerb, built-in phraser and arpeggiator assignable per-oscillator, step and LFO modulations and a huge library of expertly crafted presets.
More info on: www.uvi.net